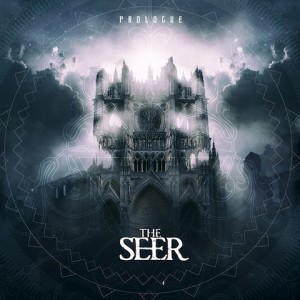 I've always enjoyed the use of bowed instruments in rock and metal. They instill a sense of grandeur like no other instrument can, whether it be the quirky art rock mishap of The Red Paintings, the melancholic doom metal of Kauan, the blistering power metal symphonies of Rhapsody of Fire or even the over-the-top weirdness of Unexpect.
Newcastle symphonic death metal outfit The Seer prove they are no exception with their debut album, Prologue.
While the symphonic instrumentation certainly provides the album with a sense of grandeur, it does not live or die by it. This isn't a criticism of the symphonic instrumentation but a testament to how solid the band's neoclassical-inspired riffing is. The instrumentation provides subtle embellishments that work with the guitars to create something that feels grand without becoming over-the-top or cheesy. It isn't as prominent as it is in contemporaries such as Fleshgod Apocalypse, where it occasionally feels like "metal" is playing second fiddle.
While The Seer occasionally indulge in grandiose symphonic introductions, Prologue is a metal album through and through, and an unrelenting one at that. The Seer very rarely give listeners a moment to catch their breath.
The majority of the material on Prologue has been rerecorded from the band's past releases. Despite the expanse of time over which the album was written, The Seer demonstrate a consistent style and are a band that clearly play to their strengths.
New tracks "Embrace Pestilence", "Condemnation" and "The Plague" do, however, showcase a refinement of the band's style, further exploring compositional structure and dynamic along with material through the 2012 Timeless single. "The Plague" in particular features the album's heaviest moments, opening with a whirlwind cacophony of pummelling drums and furious fretwork as well as the album's quietest, reminiscent of the softer side to In Flames' Whoracle.
Fans of Fleshgod Apocalypse and Septic Flesh (who The Seer are incidentally supporting on their 2014 Australian tour) will no doubt enjoy Prologue, but there's more than enough appeal for the melodic death metal crowd. A number of the songs have an old-school melodeath vibe where the "melody" is created through guitar riffs, rather than through clean singing. "The Fall" is an excellent showcase of this, bringing to mind Dark Tranquility.
Memorable guitar lines, breakneck solos, grandiose symphonic instrumentation and unrelenting intensity make Prologue a worthwhile listen. For the most part, The Seer have blended death metal brutality and neoclassical sensibility without becoming cliché. While there is plenty to enjoy in the songs taken from The Seer's first EP, the new tracks clearly demonstrate growth in songwriting prowess and provide a welcome dynamic to the album.
If either melodic or symphonic death metal is your thing, you will no doubt find something to love about every song.
Prologue can be purchased and streamed from The Seer's Bandcamp profile.