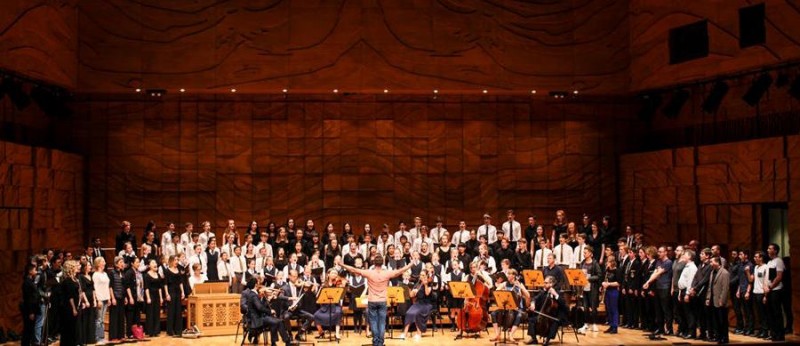 A Majestic Musical Journey Celebrating the Human Voice
is impossible not to be moved by this majestic musical journey celebrating the human voice. Paul Dyer Artistic Director and Conductor of the Australian Brandenburg Orchestra (ABO) undertook that his daring concert entitled 'Mozart Requiem: 100 Voices would be one of most 'intoxicating performances of the year' and indeed it was impressive. This was an aural feast to behold, involving the Brandenburg Choir and a specifically selected Youth Choir, the Australian Brandenburg Young Voices.
"Children's voices were part of the musical landscape in the Renaissance and Baroque", Paul Dyer explained, and so ABO recruited 100 children between the ages of 7 to 16 from 21 diverse schools.
The Brandenburg Young Voices were showcased wonderfully under Anna Sandstrom's baton, opening with the girls of the Young Voices moving towards the stage down the aisles of the City Recital Hall, joyously singing Australian composer Lynn William's Festive Alleluia. This was followed by the entrance of the boys and young men performing a traditional Gaudete from Piae Cantiones.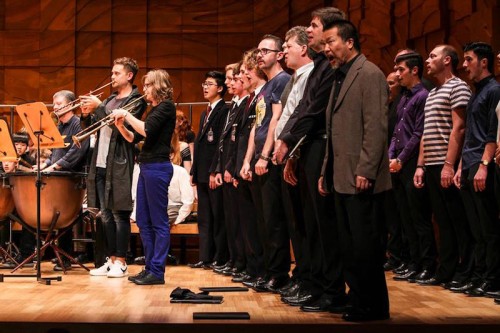 A second anonymously attributed medieval chant Salva nos, stella maris followed and then a rendition of Giovanni Pierluigi da Palestrina's Alma Redemptoris Mater exemplified what a brilliant outfit the Brandenburg Orchestra and Choir are, the mellifluous sounds of the choir in perfect synergy with the period instrument-playing orchestra. Next a lively performance of Orlando di Lasso's Mantona Mia Cara showed off the talents of soprano Amy Moore, alto Max Riebl, tenor Paul Sutton and base Alexander Knight quite brilliantly. The Young Voices then returned to the stage to perform John Rutter's 'What Sweeter Music' and 'For the Beauty of the Earth' and then the full orchestra including the 100 voices gloriously performed arguably one of the most uplifting pieces of music, Handel's Hallelujah Chorus from Messiah.
The second half of the concert was devoted entirely to the Requiem Mass in D minor by Austrian born composer Wolfgang Amadeus Mozart. Paul Dyer took to the stage to introduce Mozart's Requiem, quoting Henry Wadsworth Longfellow, "O, how wonderful is the human voice! It is indeed the organ of the soul!" Dyer explained that the magnificence of the music created by Wolfgang Amadeus Mozart was attained through not only his instrumental music, but also through the human voice through song. The Brandenburg Choir and Orchestra then assembled for a breathtaking performance of Mozart's Requiem with Paul Dyer conducting. It was an intricate work dealt with exquisitely highlighting the immense talent of the choirs and orchestra. Paul Dyer has yet again delivered a truly inspiring program that celebrates the mature and youthful human voice at its best.