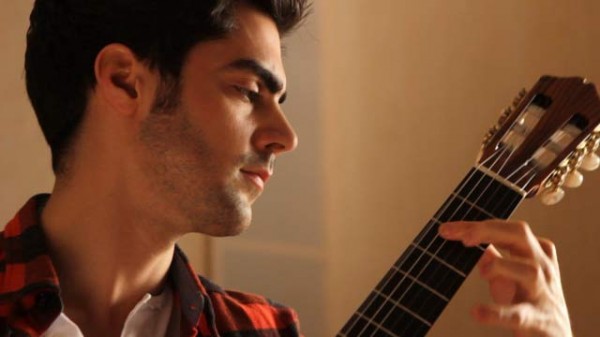 Rising classical music star and guitarist extraordinaire Miloš Karadaglić gave his first public performance in Sydney to what was nearly a full house at the City Recital Hall in Angel Place last night.
The charismatic 29-year-old from Montenegro delighted a diverse audience with a prolific offering of interpretations mostly from the classical guitar canon. He also managed to prove that not all solo classical guitar recitals are destined to be sombre affairs.
Marketed by the record label Deutsche Grammophon on a first name basis, Miloš is both the real deal – a skilled interpreter of numerous classical guitar styles – and a great example of what a music business increasingly concerned with brand image is looking to promote.
Classical music in the 21st century is not immune to the challenges new technologies pose to the sale and distribution of recorded music, and Miloš offers his audience a lot more than virtuosity on record, performing with style, grace, humour and wit, unabashed to regale the audience with amusing tales of his distant home, his love of Australia, even his dear Mum.
On a hot Sydney night, Miloš entertained not only through his consummate and highly impassioned renditions ranging from a Bach prelude to the very contemporary Carlo Domeniconi composition Koyunbaba, but through his rapport with an audience enraptured in the guitarist's intriguing and seemingly casual reflections on the various composers' inspirations, experiences, and musical styles.
Miloš reminded us that the music he was playing was indeed "very, very cool", despite the somewhat intense heat that detuned his delicate instrument and required regular and diligent attention between pieces.
He opened with Bach's Prelude and Fugue from his Suite in C Minor, followed by the eminently popular guitar showpiece Asturias (Leyenda) by the Spaniard Albéniz, a composition that, as Miloš explained, was originally written for piano.
These first two pieces established Miloš' supreme proficiency on his instrument, a guitar built by the famous Australian luthier Greg Smallman. After a glorious display highlighting in particular his tasteful and emotive use of dynamics, Miloš rejoiced that while playing his Australian made guitar right here in Sydney, "it feels like a bit of me comes home".
The third piece was Granada (Serenata), also by Albéniz, which stood out as a highlight for this reviewer. While Miloš is nothing short of impressive in fast and furious mode, the slow, delicate and cinematic beauty of Granada with its simple melody and complex, extended chordal accompaniment really allowed the guitarist to demonstrate his passion for the music that inspired his debut 2007 album Mediterraneo.
The remainder of the first set was a speedy rendition of four pieces by Brazilian composer Heitor Villa-Lobos, one of the best-known Latin American composers.
By this time the City Recital Hall had really heated up, and perhaps it was this that prompted Miloš to power through these pieces at an almost frenetic pace, as comfortable however with the hellish aggression of Villa-Lobos as with the comparative balladeering of Albéniz.
Later in the night Miloš would tweet through his website, "Can't sleep… The heat at Angel Place was actually quite 'devilish' tonight".
After an intermission Miloš returned refreshed, and performed some of the strongest pieces in his set – an Argentine Milonga, Isaías Sávio´s percussive  Batucada and a stunningly beautiful Paraguayan influnced piece called Un Sueño en la Floresta (A Dream in the Forest).
It was then that Miloš left no doubt in the audience's minds as to both his virtuosity and diversity with a powerhouse interpretation of the 12-minute Koyunbaba suite by Italian guitarist and composer Carlos Domeniconi.
Miloš then performed two encores, a brief tango by Ástor Piazzola and Francisco Tárrega´s Lagrima (Tear).
I don't recall what time it all ended, but I will make a point of committing Miloš Karadaglić to memory, as he is indeed a triumphant new voice for the classical guitar and an entertainer of the kind that even the classical music industry now demands.
Miloš plays Adelaide Town Hall on November 28, Melbourne's Recital Centre on December 1 and the Perth Concert Hall on December 3.