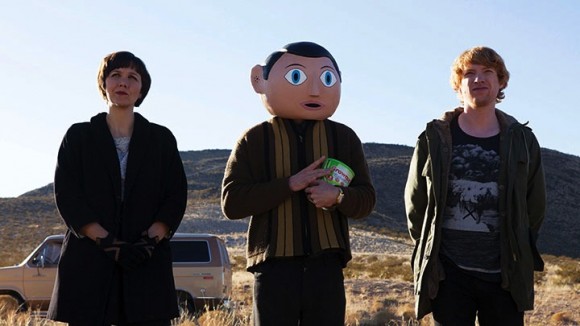 In 2011, Michael Fassbender ditched his clothes and roamed around his apartment stark naked in the Steve McQueen film Shame. Now Fassbender has embraced modesty and covered himself up – completely – by obscuring his face with a giant papier-mâché head in the mesmerising comedy-drama Frank.
Fassbender plays the film's titular character, an eccentric musician who wears a fake head on and off stage, drinks his meals through a straw and even showers with it on. He fronts the band Soronprfbs (difficult to spell and even harder to pronounce), an avant-garde rock outfit with little regard for "likeable" music.
After their keyboardist attempts to literally drown his sorrows in the ocean, the band is in desperate need of a new player. Enter Jon (Domhnall Gleeson), an eager Northwest English lad who dreams of stardom, despite his mediocre musical chops. Jon is in the right place at the right time; the band needs a keyboardist, and fortunately, Jon can play. Soon, he's recording an album in Ireland and heading to the SXSW Festival in Texas.
We see Frank's oddities through the eyes of audience-surrogate Jon. When he asks about Frank's penchant for papier-mâché, band manager Don (Scoot McNairy) tells him "you're just gonna have to go with this". And we do, with wild abandon.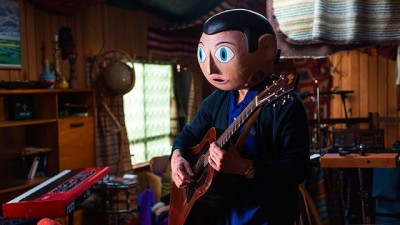 Irish director Lenny Abrahamson (Adam & Paul, Garage, What Richard Did) fuses quirky comedy with pathos to great success. Frank's surreal story is grounded in reality; co-writer Jon Ronson loosely based the screenplay on his stint as the keyboardist in Frank Sidebottom's Oh Blimey Big Band during his college years.
The decision to hide Fassbender's leading-man looks behind a mask and cast him as Frank seems an odd one. But this restriction is actually liberating, allowing Fassbender to tap into an exciting physicality and vocal range. He summons emotion with the mere shrug of a shoulder and his deep, booming voice rivals Matt Berniger of the National.
Maggie Gyllenhaal is a knockout as Frank's musician sidekick Clara. She smolders behind cat-eye glasses and wields a Swiss army knife (and isn't afraid to use it). Domhnall Gleeson brings a likeable naivety to his performance as Jon and his attempted humblebrags on Twitter are particularly amusing.
This year, the Sydney Film Festival features a redhead father and son double act with Domhnall's father Brendan Gleeson starring in the impressive Irish black-comedy Calvary.
A film about a novelty papier-mâché mask could be a novelty itself. But Abrahamson delivers a quirky, thoughtful and tender film about artistic integrity that hits all the right notes.
Screening at the Sydney Film Festival on Tuesday June 10, 7pm at Event Cinemas.