It's a brave move to adapt an Ingmar Bergman film to the stage, notwithstanding the fact that Bergman, known best for his films, produced twice as many theatre productions.
There's a lot to deal with, not least a dozen or so set changes from hospitals to domestic settings, including one beautifully choreographed scene change to a fully set restaurant, making a virtue out of necessity.
Face to Face follows female psychiatrist Jenny (Kerry Fox) through the normalcy of work, family and friends into a dangerous situation that serves to reveal a terrifying tension at the centre of her being; it jags her identity and unravels her tightly woven self.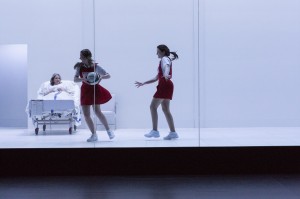 The play shifts from the first 'normal' half into the second 'dream' half via a hugely dramatic set change that literally changes the ground under Jenny's feet, and is in itself an engineering feat. (Great work from set designer Nick Schlieper).
Jenny proceeds to unknot her past, her repressed memories, her truer self and emerges as a more real, vulnerable and likable person.
Kerry Fox is such an expressive actor; it's easy to read things into her face because there's so much going on, but dammit we don't see her wonderful face close up. She nevertheless anchors each and every scene, mooring our varying interest, dislike, compassion and empathy. The power of her character's huge and transforming grief is, in one later scene, hugely affecting, (I'm sure I wasn't alone in weeping along).
John Gaden is strong as a man broken by senility; Wendy Hughes is his overbearing wife. Convincing performances too from Humphrey Bower, Anna Martin and Queenie van de Zandt.
Director Simon Stone notes in the program: "Face to Face is a warning cry against the self-help culture, against the idea that happiness is a box you can tick rather than a passing moment to be caught when you can catch it, against ignoring today's worries in pursuit of numbing contentment, against self-denial for survival's sake."
This is after all a very digestible but no less revealing form of Bergman, without the excoriating close ups but also without the dragging, glacial pace; it is real, fresh and with a surprisingly long aftertaste.
Face to Face
Sydney Theatre
Until  September 8
Book on 9250 1777