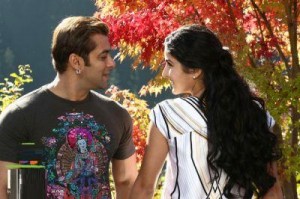 Welcome to the world of Bourne and Bond, Bollywood style!
First things first: Salman Khan, as a name and a brand, has become somewhat of a legend. The line between off-screen and on-screen personas has blurred to the extent that whatever Salman Khan does in real or virtual [movie] life becomes the set, accepted truth.
His last four movies have been blockbusters, all raking in millions and driving the fans crazy
worldwide. And they have all ridden the success wave on the persona of Salman Khan, and not on
what the movies were about.
Now Salman Khan is back in his latest Bollywood offering Ek Tha Tiger [meaning once there was a man called Tiger]. And what the audiences see here is again Salman Khan, the persona and not Tiger, the movie character.
And this, as usual, works both for the film and the fans.
So what's new, Bollywood fans would ask? Well, for starters, we [yes, I confess to be a fan] like
seeing him on the screen. Period.
However, Ek Tha Tiger boasts something rare and magical in a Bollywood film; it actually has a script!
Ek Tha Tiger is essentially an espionage thriller, with a romantic love story attached.
The movie starts with a voiceover of the story: simple and straight-forward, revolving around the
intelligence and security agencies of the two nations: India and Pakistan [RAW & ISI respectively].
Hot-shot RAW Agent Tiger (Salman Khan) lives alone, on his own terms, hiding his true identity
from neighbors and people around him. He is sent on a new mission to tail and observe a Dublin-based Indian scientist, Kidwai (Roshan Seth), who is suspected to be passing on vital national
security information to the ISI.
Tiger befriends the professor's student caretaker (Katrina Kaif), love blossoms, and eventually Tiger is left to choose between his duty and love.
Needless to say, an action-filled joy ride begins, leaving a trail of destruction at the hands of the indestructible Tiger.
The movie is fast-paced, well choreographed, and the dance and song sequences are cut and few so as not to block the pace of the movie.
And for the western audiences, it is playing at Hoyts and Event cinemas with English subtitles.