Friday night at the Yarra Hotel was the place to be. That's where The Tall Grass, a Sydney band with singer/songwriters Peter Fenton and Jamie Hutchings at its core staged the Melbourne launch of its first album, Down The Unmarked Road.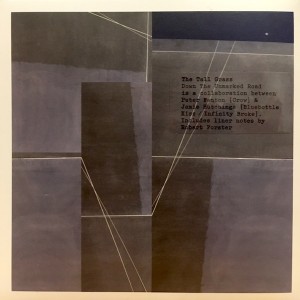 Seriously talented, no doubt about it. Later, you'd be able to say you saw the band when it first started out.
Picture this. A dimly lit, cosy room that'd pack in 80 like sardines in a tin. A small stage out front, charitably lit, with purple velvet curtains as a backdrop. Three men tuning instruments, sound-checking, having a friendly joke with one another and anyone curious enough to look.
They were the first act: Melbourne band Charlie Marshall & the Curious Minds, followed by another hometown band, Harry Howard & the NDE – at least half of Harry Howard & the NDE: Harry himself and Edwina Preston.
The other half, Dave Graney and Clare Moore, sent apologies from hospital where Dave was busy getting his appendix out. Still, Harry and Edwina did great – sheer verve and musical talent pulled through, even with only one guitar and a keyboard.
That set the scene for the main act, The Tall Grass, a musical partnership and collaboration between Peter Fenton (Crow) and Jamie Hutchings (Bluebottle Kiss, Infinity Broke), with Richard Andrew (Underground Lovers) on drums and David Keys on bass guitar. The chemistry was there and the outcome, music that was heartfelt and evocative.
We were in Newtown on King St ("Moller"), down the unmarked road that gave the album its name ("Weathervane"), and running scared hitchhiking in a "hiking hitch" ("Ghost Gums").  The darker melody in "The Road is Long", the mystic mechanic in "Was With Her" and the catchy "Little City" took us places too.
The music is hard to categorise – indie/alternative, shades of Dylan, Paul Kelly – varied, eclectic, interesting, lyrical. Maybe the evolving genre of antifolk is as good a description as any.
As a songwriting duo, Fenton and Hutchings expose the poetry in the commonplace. Tighten up some of the harmonies and you have all the makings of an iconic Australian band.