Renowned for their frolicsome take on what could be misjudged as fustily antique Renaissance and Baroque music, the Australian Brandenburg Orchestra has found soul mates in Ensemble La Chimera, an Argentine group formed by lutenist Eduardo Eduez to celebrate a fusion of Spanish baroque, contemporary Latin and Italian opera.
Honoring the influence of Italian and Spanish cultures on Argentina, La Chimera was formed in 2001 and is now making its first visit to Sydney, performing at the City Recital Hall until November 7.
The program is structured loosely round a narrative of 24 songs in six parts, including Italian Madrigals and Latin folk songs, interspersed with instrumentals featuring the lute-like theorbo, and accordion-like bandeneon. As is customary with the Brandenburg, the standing violin and viola sections added to the verve of the performance, reminding us that however carefully historicised, it was all pop once. And the funky three fates of the viola section deserve first prize for best-looking trio in chamber music.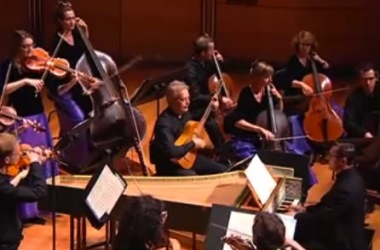 The Brandenburg's signature combination of technical excellence and playful exuberance provided a warm backdrop to the dramatic and heart-wrenching intensity of the songs, lusciously performed by Susanna Moncayo and Furio Zanasi.  Moncayo's luxurious contralto was instantly enthralling, and her ability to plunge effortlessly from full-throttled operatic heights to depths of torment reminiscent of Portugese Fado, and then drift breezily into a Latin folk groove, was mesmerising. Zanasi's warm baritone was slightly overshadowed by Moncayo's brilliance but his more understated charm came into its own after the interval, especially with the heartfelt "Lamento di Apollo" by Francesco Cavalli.
Chimera's interest in Argentina's literary heritage was evident with words by Jorge Louis Borges set to two songs, "Absence" and the "Awakening"; but the lyrics included in the program provided many delights with their extravagantly lyrical protestations of love and anguish. Yet none of this was mawkish – rather the heartbeat of the evening was consistent with the exhilarating dance sequence that ended the program. Restoring our optimism with the foot-stomping and aptly named "Hot Potatoes", it triumphed with an exquisite and powerful duet, "Mist from the Brook", and was topped off by a wicked encore showcasing Gabriel Rivano's bandeneon. Having renounced the piercingly poignant top notes of earlier love songs, there was cheeriness aplenty.
Buenos Aires Tango was by turns delicate, passionate, melancholy, joyful, and at all times transportingly lovely.
City Recital Hall, Angel Place: Wednesday 6 November, 7pm; Friday 8 November, 7pm.