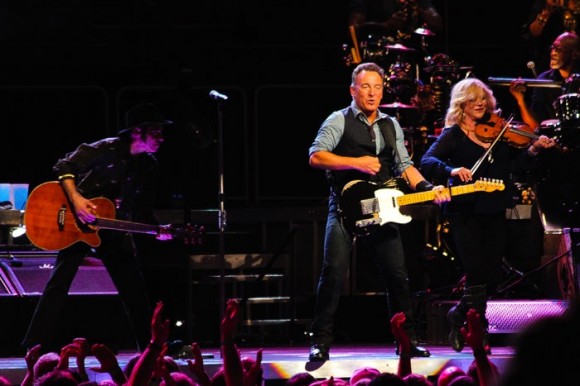 It has been ten years since Bruce Springsteen last brought his legendary E Street band to Australia, but in a blistering show at Allphones Arena in Sydney on Wednesday night he reminded everyone why he is still the boss. In a set that ran into a third hour, the 63 year old showed that age has not wearied him, or softened his characteristic verve, charisma and physicality.
A few changes to the E-Street line up have taken place since their last visit, most notably the passing of saxophonist Clarence Clemens and the stepping aside of long-time guitarist Steve Van Zandt, but they were ably replaced by Clarence's nephew Jake on sax, and guitar wunderkind Tom Morello of Rage Against the Machine fame respectively.
Springsteen began in relatively subdued fashion, emerging solo into a spotlight to give a haunting rendition of his 2005 hit "Devils and Dust". From there it was a trademark Boss 1-2-3-4 intro, and his 15-piece E Street battalion launched into an uncompromising set that included classics "Promised Land", "Does this Bus Stop at 82nd Street?" and "Darkness on the Edge of Town", interwoven with selections off 2012's Wrecking Ball album.
The versatility of the band was on full show from the gospel-infused "My City of Ruins" to a spirited medley that incorporated rock-and-roll classics "Good Golly Miss Molly" and "C C Rider". "The Ghost of Tom Joad" saw Springsteen trade vocals with Morello, who also showed off the six-string wizardry that made him such a star in the '90s.
Never content to be anchored behind a mic stand, the Boss leapt, danced, threw guitars to unsuspecting roadies, and at one point did a victory lap around the arena before crowd-surfing his way back to the stage. He obliged people with banners, climbing into the crowd to collect them, then dutifully playing their requests.
The biggest cheer, however, came when he invited a young fan on stage to sing "Wait'n on a Sunny Day" and join him for a classic Bruce knee-slide.
In an encore than ran over half an hour, Springsteen treated the faithful to iconic hits "Born to Run" and "Dancing in the Dark" before finishing with a heartfelt rendering of "10th Avenue Freeze out", which included a stirring montage tribute to Clemens.
While some aging rock stars cynically cash in on the fame that has long since passed them by to top up dwindling retirement funds, the dedication and passion Springsteen still pours into his live performances are a reminder of why he is still relevant and well and truly worth the price of admission.