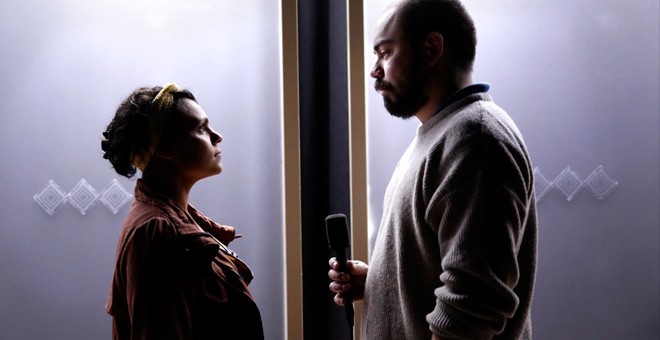 Broken is a visceral, poetic and exquisitely raw theatre experience, written by Mary Anne Butler and directed by Shannon Murphy. The play tells the interwoven stories of Ash (Rarriwuy Hick), a woman who suffers a horrific rollover car accident while driving through Central Australia, her troubled rescuer, Ham (Ivan Donato), and his wife, Mia (Sarah Enright), alone at home and anguished after suffering a stillbirth.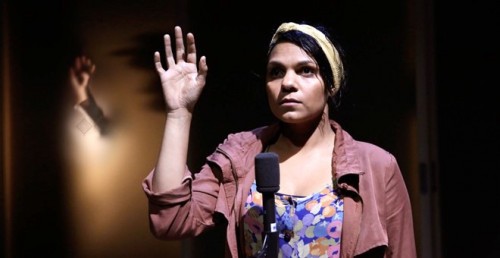 From the moment the three performers enter, they are largely confined to their own space on the stage, restricted to within close proximity of their individual microphones. Interactions occur through the three interwoven monologues, making the few rare moments of physical exchange all the more salient.
The lack of visual storytelling forces the audience to play the scenes out in their imagination: the opening sequence features a car crash, and no effort is made to recreate or stage this dramatic event before our eyes. Instead, an effective and haunting description is retold by Ash, with such clarity of detail and immediacy of experience that what the audience takes away is more real and excruciating than any stage recreation could have been.
The fracturing of voices, with one character seemingly replying to another – despite their narratives being disparate and asynchronous – adds layers of complexity to the play's rich poetry.
The only time when the story's careful precision seems to unravel is at its open-ended conclusion, an ending that leaves little resolve and instead offers itself up to the audience to decide the fate of the harrowed characters.
Broken is showing at the Darlinghurst Theatre until August 28.