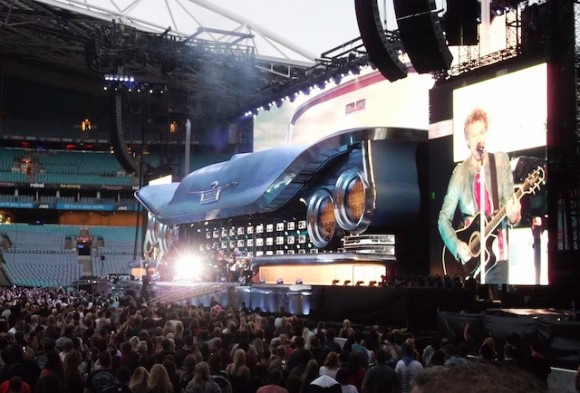 A crowd of more than 50,000 fans showed up to Bon Jovi's sold out Because We Can tour at Sydney's ANZ Stadium last Saturday night. Their set list comprised over two hours of powerhouse ballads and blue-collar rock hits that catered to all audiences, from lifelong die-hard fans to those who only knew the band by their signature stadium anthem "Livin' on a Prayer".
Jon Bon Jovi bounced onto the stage, an extravagant setup based on a '59 Buick, urging the whole stadium to "get up out of those seats". And while he has probably told hundreds of audiences how happy he is to be back performing in their city again, with his charisma and boyish grin it's hard not to believe him.
The band warmed up the crowd with a song from their latest album, before launching into the classic '80s karaoke song "You Give Love A Bad Name". Supporting act Kid Rock returned to the stage, singing a cover of Bob Seger's "Old Time Rock and Roll" with the boys, to raucous cheers from the crowd.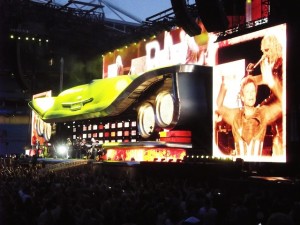 A stripped-back, acoustic set was then performed on a platform amongst the audience, showcasing Jon Bon Jovi's raw, powerful vocals on the new track "Amen" as well as a downbeat, emotional styling of "Someday I'll be Saturday Night". The intensity decreased as slower songs "Diamond Ring" and "(You Want to) Make a Memory" followed but the volume was soon turned back up and Bon Jovi had the crowd pumping again with the rollicking party track "We Got it Goin' On".
With the absence of lead guitarist Richie Sambora (who is currently on an extended break from the band and was replaced by session musician Phil X) each of the original band members, keyboardist David Bryan, bassist Hugh McDonald and drummer Tico Torres, were given their own time in the limelight with a series of "jukebox" covers ranging from The Rolling Stones to AC/DC. A slick, punchy cover of Roy Orbison's "Pretty Woman" elicited plenty of high-pitched squeals from the predominantly female audience. From there the hits continued to rock and roll, selected from all across their lengthy discography, including "It's My Life" and "Wanted Dead or Alive".
The encore featured the defiant "Have a Nice Day" and fan favourite "In These Arms" which kept energy levels high before a passionate sing-along of the concluding track "Livin' on a Prayer" – the song most of the audience had been anticipating from the concert's opening chord.
While their last few albums haven't produced exactly been ground-breaking material, album after album they band continues to write and perform catchy, pop-infused hard rock songs. Three decades after their first chart success in the '80s, Bon Jovi continues to be a fantastic and energised live act due to this sustained consistency and dedication. One thing is for certain: Bon Jovi has definitely still got it goin' on.