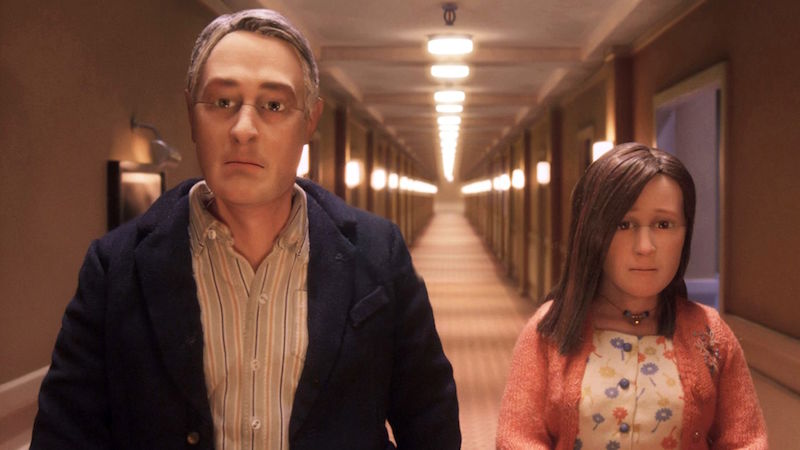 There's really no need to leap inside the mind of writer/director Charlie Kaufman— à la Being John Malkovich—because his films themselves offer us a glimpse into his innermost thoughts and philosophies. This is true of Kaufman's latest feature Anomalisa, a darkly funny work that captures the ache of being human through the use of stop motion animation.
If Kaufman followed his original intentions, Anomalisa would have never reached cinemas. Written and performed as a 'sound play' in 2005, the story was then brought to the big screen through a Kickstarter campaign and the efforts of co-director and animator Duke Johnson.
Set during the Bush administration, in an era when iPods were carried around in pockets and smoking in taxis was still tolerated, we meet British self-help guru Michael Stone (voiced by David Thewlis). Michael touches down in Cincinnati to give a lecture to customer service professionals, following the success of his book How May I Help You Help Them? Although Michael literally wrote the book on human communication, his life is defined by isolation and loneliness, a tragic irony the film teases out.
During his stay, Michael reconnects at the hotel bar with old flame Bella. He also meets two small-town girls, Lisa and Emily, who have splurged on a weekend away for Michael's talk. As the girls sip on apple mojitos, Michael downs his signature drink—a Belvedere martini with a twist—and begins his charm offensive on Lisa.
It is not Lisa's looks or naiveté that captures the married man's eye. Rather, her voice sings out to Michael in the halls of the hotel. Jennifer Jason Leigh lends her voice to Lisa in a bighearted performance far less gruelling than her blood-soaked turn in The Hateful Eight. Actor Tom Noonan voices every other character in the film, resulting in a homogenous humdrum of sounds. Can everyone in the film world hear Lisa's uniquely melodic voice? Or is it merely in Michael's mind?
The addition of stop motion animation to the fine-tuned screenplay is a revelation. The blinking eyes and twitching lips of the puppets, often framed in close-up, elicit the same emotion that a seasoned actor's face might offer. After watching the film, a friend remarked that the characters seem "more human than human." So human, that after a few more drinks we see Michael and Lisa having sex in his bed. He even lights up a cigarette afterwards. And yet, the visible seams on the figure's faces remind us of their constructedness; they act and speak in the voice of master puppeteer Kaufman.
Michael's wandering eye and self-absorption could be unlikable for some viewers. His confession that he not only resents his wife but also his son moves the film beyond middle-aged malaise, and points to a dissatisfaction with life that cannot be satiated by one's wealth, career or family. The idea that everyone, at some point in time, is plagued by loneliness is a rather comforting thought.
But don't let this existential dread deter you. The film's lightly comic touch moves from Seinfeldian observations to cringe comedy, and on to a delight in the absurd, most notably demonstrated when Michael buys his young son an antique sex doll.
In the midst of Oscar season, with features such Alejandro Iñárritu's The Revenant pushing over two and a half hours, Anomalisa's 90-minute duration breezes by. Like Lisa herself, Kaufman and Duke's film is an anomaly and must not be missed.