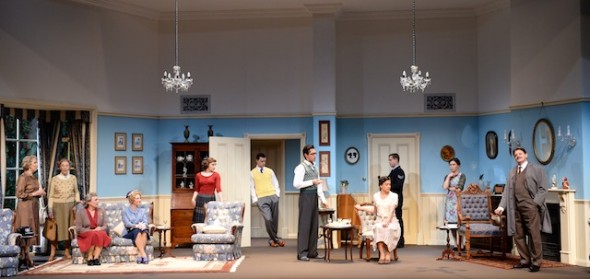 If you enjoy an authentic period play and feel like a trip back to the 1950s head down to the Sydney Theatre to catch Agatha Christie's A Murder is Announced before October 27 or see it at Melbourne's Comedy Theatre from October 30.
The opening night audience in Sydney on September 28 really got into the spirit of the occasion with many dressed and coiffed in gorgeous fifties style almost rivalling Suzy Strout's great costumes on the stage.
Leslie Darbon's stage adaptation, which opened in London's West End in 1977, is a little convoluted and unravelling the plot comes at a fast pace at the very end so it is a rush to tie all the loose ends together.
The plot twist, when it comes, is surprising as nothing has hinted at the denouement although I had my suspicions about the character, and some clues that are thrown up during the play remain unresolved or unexplained.
Linda Bewick's set is very genteel and the acting, overall, is quite good although Darren Yap's direction could at times have been tighter.
This is Christie's fourth out of 12 novels that feature the intrepid spinster Miss Jane Marple, played very ably by Judi Farr. Debra Lawrance gives a solid and nuanced performance as Letitia Blacklock, the mistress of Little Paddocks – the house where the murder takes place – and Carmen Duncan is suitably flighty as the busybody neighbor Mrs Swettenham.
But it was Victoria Haralabidou who stole the show with her hammed up over-the-top performance as the maid Mitzi.
If Dora Bunner was meant to be irritating then Deidre Rubenstein did a good job and Elizabeth Nabben as Julia Simmons, Nathaniel Middleton as Patrick Simmons, Libby Munro as Phillipa Haymes and James Beck as Edmund Swettenham were competent but needed polishing. Although his stage appearance was comparatively brief Robert Grubb presented an authoritative Inspector Craddock and Jamie Christian doubled as Sergeant Mellors and the murder victim.
This is a play that relies strongly on words and the script was demanding with some actors occasionally tripping over their lines on opening night. This will undoubtedly resolve itself with more performances as the season continues until October 27 at the Sydney Theatre in Walsh Bay and then at the Comedy Theatre in Melbourne from October 30 to December 4.
It takes a few scenes to settle into the pace of the play but fans of the whodunit genre and live theatre will come away happy.