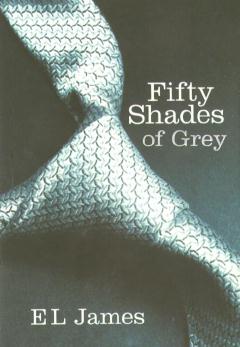 The controversial and explosively popular 50 Shades of Grey trilogy by E L James is topping book charts in Australia and around the world.
The saucy novel is the fastest selling paperback of all time in UK history outstripping Dan Brown's The Da Vinci Code and JK Rowlings Harry Potter books. Australia is quickly catching on with 50 Shades of Grey, 50 Shades Darker and 50 Shades Freed currently claiming Dymocks' top three spots on their bestseller charts.
British wife and mother of two, TV executive E L James, is the lady behind the novels classified as erotica, romance or suspense. James' "Masters of the Universe", an online fan fiction series based on Stephanie Meyers' Twilight with more sex, was picked up by the Writers' Coffee Shop and tweaked to produce the 50 Shades chart toppers.
Since the first instalment in the series, 50 Shades of Grey, was first released in May 2011, more than 10 million copies have been sold worldwide, and the leading film houses recently entered a bidding battle to secure its film rights with Universal and Focus Pictures winning.
The first instalment of the trilogy, 50 Shades of Grey, weaves the web of a complex relationship between Ana Steel, a sexually naive Seattle literary graduate and Christian Grey, a young hot shot CEO with a dark past. To the outside world Grey is the ultimate package – uber successful, melting good looks, charming personality and extravagant lifestyle.
But he has control issues and an alternative view on intimate relationships. Ana is presented with a difficult decision: to submit to Grey's demands or to walk away. Grey is also challenged to make concessions for Ana and to let her in.
At first impression, the book is boringly written and overly simplistic. But the boredom didn't last. Before I knew it I was smacked in the face with a full-on sex scene mid train ride to work. At first I was shocked and wondered whether I was a prude.
The novel has been dubbed "mummy porn" but this dumbs down the heavy BDSM (Bondage and Discipline, Dominance and Submission, Sadism and Masochism) content. I was surprised at my addiction to reading on and slightly disturbed at my interest.
The book has been widely  embraced which demonstrates freedom of speech and decreasing political correctness. I didn't love this novel but I'm tempted to read 50 Shades Darker if only to see whether Ana can change Christian.