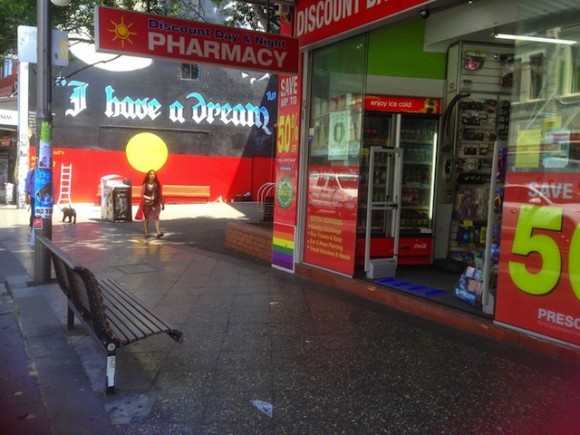 Are you waiting for a bus?' I ask the young woman standing outside a King Street pharmacy as I cycle pass.
"Yes," she replies candidly. "How can you tell?" she laughs.
"Well, not from signage that's for sure – but I'm afraid 'transport improvement' means you're going to have to go up to the Green grocer's to catch one now."
It had been right there, right where she was standing, right where her backpack was resting on the bench, right in front of the chemist, but following a brief round of political announcements , community consultation  and engineer updates  supported by PR-leaning media mentions, it had been obliterated.
Newtown's King-Street-near-Wilson-Street bus stop was no more. This is a 'behind the news' story taking a look at the removal of bus stops in the inner west albeit in the name of transport improvement.
To some Newtown residents and businesses, this initiative coupled to the extension of clearway hours and removal of parking spaces has raised the question whether the NSW government and Transport for NSW are creating an alternative Parramatta Road through the Inner West in their desperate quest to reduce Sydney's chronic traffic congestion.
Not that old 'congestion' chestnut!
The political assumption that buses cause congestion by stopping at bus stops has provided the Minister for Transport with a platform to increase bus services and with a deft sleight of hand, to remove bus stops. Transport statistics published in the dailies point to increased services resulting in increased satisfaction but if truth be told satisfaction is decreasing as rapidly as Inner West bus stops.
Stop a Newtown resident today and you will be routinely regaled with horror stories of their bus-catching reality.
Claire Marshall, film-maker and Newtown resident, is not impressed with the new transport improvement plan.
"There were three of us this particular Friday night on a 'trackwork-no-trains' weekend, so we decided to bus to Surry Hills," she said.
"We were waiting around 8:30 pm at the bus stop on King Street near Brown Street and we could see this bus coming along King Street indicating that it was about to pull in but because there was another bus at the stop already, and maybe because of all the parked cars too, the bus we were hoping to catch suddenly drove off without letting anybody off or on. We had to wait another 25 minutes before another bus turned up. It was so annoying.
"And another time," she continued, "I was let off the bus right in the middle of King Street because the bus I was on couldn't pull over to the bus stop due to another bus being there already. So the next thing I know I'm amongst all the moving-now-stopped cars trying to drive along King Street, and I then have to jump through the parked cars to make my way to the pavement. I can't see how the buses have been improved, nor can I see how useable this all is to the elderly and less mobile."
According to a Roads & Maritime Services media release , the inner west Bus Priority programme  is being rolled out to improve the reliability and speed of bus services along main inner west bus corridors. It is fully funded by the New South Wales government to the tune of $150 million and promises to reduce traffic congestion.
Of course it does.
But none of the government's projections have allayed the disquiet that Marrickville MP Carmel Tebbutt is currently experiencing regarding the bus stop removals. When the changes were first proposed she conducted a letterbox campaign urging residents to express their views.
"I am very concerned that the closure of some bus stops and the relocation of others will cause difficulty for residents in the Inner West, particularly residents with mobility issues or with children," she said.
"I made a submission and representations to the Minister for Transport in an effort to have the proposals changed, and while some changes were made by Transport for NSW as a result of consultation, it is unfortunate that the Government has pushed ahead with the bulk of the removals and mergers of bus stops, which will have an adverse effect on many residents using buses in the Inner West."
It is starting to dawn on Newtown residents that there are significant differences between bus services and bus stops. Political logic goes along the lines that bus stops hinder bus services and need to be minimised if not eliminated. Then once everything is cleared out of the way and sped up bus services can be announced as improved and reliable, echoing the eternal take on hospital efficiency without medical staff.
Mr Vu Nguyen, who works at the Discount Day & Night Pharmacy on King Street near the I have a dream mural in Newtown, said he was surprised the bus stop outside the pharmacy was removed.
"It was very easy for buses to pull in here because there were never any parked cars. Buses could pull in behind each other, and it was very safe for passengers to get on and off without ever stepping onto the road. Now, where the bus stop has been moved to, passengers have to step onto the road because the buses often can't pull into the pavements.
"This was a very good location for a bus stop because of the existing road set-up, and the bench outside the shop. In fact many people still wait here and can do so for quite awhile – we are often stepping outside to tell them that the bus stop is no longer here and has moved up further along King Street."
Jenny Leong, the Greens candidate for the new seat of Newtown, thinks that while it is true some relocations were necessary for safety reasons such as moving the Butlin Avenue/City Road stop further down towards the Seymour Centre and away from the traffic lights, the main aim of government and transit authorities should be to increase public transport services and make it easier for people to take public transport, including buses.
Ms Leong said she agreed with Greens spokesperson for Transport, Dr Mehreen Faruqi,  who recently said removing bus stops was just another barrier to public transport.
"Removing bus stops and increasing the distance between stops is at best a distraction from the real public transport issues facing our communities. At worst it is a significant inconvenience and access issue for the elderly, those who have challenges with mobility or who are catching public transport with young families or doing their shopping.
"We should be increasing the accessibility of bus services in Sydney, especially given the inaccessibility at many local train stations, rather than making it harder for people to use buses to go about their daily lives.
"Safety for bike riders and pedestrians is a big concern on busy roads like King Street and we need to be sure the decisions being made in relation to roads and cars are taking into consideration these safety and accessibility concerns."
The economic benefits of walking, cycling and active transport are a constant theme throughout Australian cities, and governments at all levels claim to fully support them as a strategy to counter the many negative health issues facing our communities. International experts in urban planning and design are endlessly invited to our shores to give policy makers and leaders their expert opinion on how to improve the moving of people around Australian cities.
Juxtaposed alongside the recent view from one such world leading expert that Sydney's future as a globally competitive and liveable city relies on its walkability, Transport for NSW appears determined to deliver on-time running buses by increasing bus speeds and extending clearways regardless of the detrimental impact on safe walking for pedestrians.
Brent Toderian, a former chief planner of Vancouver who shared his blueprint for future-proofing Sydney at the City of Sydney's presentation 'A Tale of Three Cities' last month, said in a twitter conversation:
"I support express bus routes, when they are combined with more frequent stop routes, to provide choice."
Many Sydney residents would support this view but many inner west residents recognise that there is a disconnect between Transport for NSW's stated position on bus services and bus stops.
(Screen capture, Sydney Morning Herald, December 2013)
One commentator quipped in the comments section on a Sydney Morning Herald article:
"What a great idea … why don't they get rid of all bus stops … this way within five years we could end up with an incredibly efficient and amazingly economical bus service always running on time."
Sarah O'Connor, a disability transition to retirement project coordinator and Stanmore resident, was most unimpressed on a recent night out with a friend in Ultimo.
"I went to the new Central Park on Broadway and got off the bus right near UTS, crossing over the road to meet my friend. I'd travelled in from Stanmore, and when our night was over I waited at the bus stop on the same side as Central Park opposite UTS," she said.
"I thought it was pretty weird that buses kept passing me by and then I noticed a 'bus-stop-closed' sign positioned on the spot where the timetable normally is. I was pretty annoyed, and I walked towards Central Station thinking I'd be able to catch a bus at the next bus stop. But it too was closed so I ended up walking all the way to Central Station and catching a train.
"It's so weird that the buses bring you in and drop you off but on the opposite side to the dropping off area they're not taking you home."
A few weeks later she came out of Central Park and turned left away from Central Station remembering the closed bus stops. She was amazed to find that the next bus stop in that direction was also closed, making it three in a row.
"It's so frustrating. I mean you switch to Opal and that's a complete circus on the buses, and then all these closures and very little signage. It makes no sense, and Broadway is such a busy thoroughfare because it's so accessible, or used to be. It just beggars belief."
The car is still 'king' in Australia but elsewhere in the world the car's role in city landscapes is being demoted. That the New York Times is killing off its automobiles section reflects the shift away from urban car-dependency, and equally revealing (as noted by acclaimed urban planner Jeff Speck in his excellent book Walkable City) for over a decade major infrastructure projects in the UK have no longer been able to claim congestion as the main driver.
The old congestion chestnut has long since been discarded by our global counterparts but Transport for NSW has not received any of those memos.
Instead it is stuck in a vortex of recommendations handed to them by traffic engineers commissioned by traffic engineers to write traffic studies so that traffic engineers can conduct traffic-engineering business that they, traffic engineers, recommended needed doing in the traffic studies.
Trapped in a 'traffic Groundhog Day,' the government's plan to remove bus stops and extend clearways to facilitate the large volume of mainly single-occupant private vehicles will only make congestion worse. Already inner west residents are concerned that the unique inner west café and shopping culture has been impacted by bus stop removal and loss of parking which used to provide a protective buffer for pedestrians and cyclists using King Street and Enmore Road.
The cascading effect of rapid bus routes not stopping to pick up or drop off passengers will continue to negate the workable mass transit, pedestrian-friendly and active transport streets that worked in perfect symbiosis with the inner west's vibrant business culture before Transport for NSW's Transport Improvement Plan; it will also diminish opportunities for elderly and less mobile residents to share the inner west streets and spaces as they have done for years.
The disconnect has left Newtown residents wondering whether the state government's pandering to a limousine approach to public transit will mean that they will only get to observe buses flying through the inner west without any opportunity to use them.
Newtown residents are also speculating that it won't be long before Transport for NSW's much vaunted rapid bus service will be gridlocked once the 'Parramatta-Roadisation' of King Street and Enmore Road is complete.
Everyone knows bus stop removals are not transport improvement but a political precursor to prepare the Inner West for the next chapter in our congestion saga … WestConnex.… but that is another story and it is probably going to get very ugly.
In the meantime, Newtown intends to reclaim the bus stops.
————————————————–
The following questions were put to the Minister for Transport and Transport for NSW:
1. How do removing bus stops improve bus services?
2. How are the elderly expected to cope with the increased distances between the 'new' (ie without the old) bus stops?
3. How are the disabled expected to cope with the increased distances between the 'new' (ie without the old) bus stops?
4. How is it safe to deposit passengers in actual driving lanes along King Street now that buses cannot always pull over close to the kerb?
5. Removing car spaces and increasing clearways has removed a buffer and protection gained for bicyclists and pedestrians from parked cars – how do should governments and transport planners address this worrying trend?
… but no responses came back from either the Minister for Transport or Transport for NSW, however my request to write a submission regarding WestConnex despite the submission deadline having passed is being 'considered' by Transport for NSW.
For further information, I can also be found on my blog and on twitter too (@freedomcycliste)