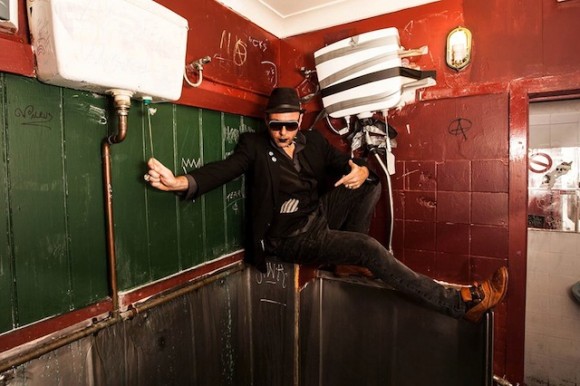 David Stavanger (aka Ghostboy), 2013 winner of the Thomas Shapcott Poetry Prize, is launching his poetry collection,"The Special", at the Queensland Poetry Festival on Saturday, 30 August. Rosanna Licari catches up with David to talk about the p-word.
Q. When did you become interested in poetry as a means of expression and what did you begin to write?
At first, as a child when my mother kept books by Yvegeny Yevtushenko within reach. His poem 'Weddings' always spoke to me, the way it speeds up & slows down and the senseless loss everywhere inside it. I then reconnected with poetry in my twenties via the documentary 'The United States of Poetry'. The work on there by Hal Sirowitz, Dennis Cooper, Lou Reed, Emily XYZ  and others opened poetry up for me and led me to the poetry slam movement too. My first writings were more cathartic diary entries to help me cope with my work as a psychologist and my sense of dislocation. In many ways, what I write now is the same – but I'm on the couch now and connected, and it is more distilled and has distance and greater empathy (for myself and the world).
Q.You were running a poetry readings and performances on the Sunshine Coast in QLD. How did this begin and what were the aims of the events?
I started out as Ghostboy – my alter ego – as a community radio host in Noosa in 2003/4. Round the same time I started up OUTSIDERS, a monthly poetry reading under a tree at a café in Doonan. I put a call out – to meet people as much as anything as it is an isolating area – and next thing we had a DJ and street artists working live and a poetry slam and crazy beasts turning up with their small dogs and long poems. They were good poetry days indeed.
Q. You've been associated with the performance end of the poetry spectrum such as slam and performance poetry as well as cabaret. Can you tell me a bit about that?
I just got called and I followed. The American Outlaw poet tradition, German and New York cabaret, and the original poetry slam intention out of Chicago that relied more on theatre and experimentation just sang the right notes. Next thing I was Ghostboy, running slams and doing my own 'spoken weird' and working a with a great band, Golden Virtues. They were days of conscious provocation and mistakes and endless discovery, which is everything poetry can embody on the page too. These are different days now – we all evolve but we don't lose what we found on the way.
Q. Now you have published a new collection, "The Special", with University of QLD Press after you won the 2013 Thomas Shapcott Poetry Prize.  What got to you interested in the page?
 I didn't get interested, I always have written for the page and read poetry all my life. That's what all poets are to me, the space in-between the two.  I am just getting better at understanding which text suits which medium, and then working them towards that setting – they are both crucial to me, although as I get older I am more likely to read in the bath than I am to go to slam on a Wed night. Winning the Shapcott only further affirmed to me that one should take their own path with poetry, not the one laid out by others, especially those that fear what you do.
Q. Can you tell the readers what your preoccupations are with the new collection?
 Blood and birds are recurring motifs. Gallows humor. My own take on our prescriptive culture, surveys, pharmacology and depression. David Lynch and the Brisbane floods. The false promise of optimism, the joy of being proven wrong – there is real love in the world, even if the sky isn't always blue. Playing with forms and prose poems too.
Q. Are you intending to explore all areas of poetry and performance or do you see yourself as staying on the page?
I see no need to limit myself or to see them as mutually exclusive. I will perform some of these pieces from the book, I will also write down things that will never be performed. Music doesn't seem to try and impose these limits. I think poetry is a map and no-one has a compass, and the more directions you give the further you are from where poetry is a home.
The Queensland Poetry Festival is on from Friday 29 to Sunday 31 August, 2014.