Europe is united more than ever, in protest: Spain, Portugal, Greece and now Italy.
Thousands of European workers, trade unions, pensioners and students moved to oppose all governments that support austere policies in response to the economic crisis, without "first depriving themselves of privileges and luxuries".
The European Trade Union Confederation (ETUC) set November 14 as the day for a general strike and mobilisation "for the work and solidarity against austerity" in all EU countries. The protests were organised by the social movements against the European Union, the European Central Bank and the International Monetary Fund.
Susanna Camusso, Corso Italia trade union representative, did not mince words: "The austerity strangles us."
Youth European trade unions joined the call with the slogan, "Giovani d'Europa alzatevi" (youths of Europe rise up). Italian trade unions, including the main Italian trade union, the CGIL, responded proclaiming a four-hour strike in the major cities of Italy.
There were clashes with police, including the use of tear gas in some cities, during demonstrations in Rome, Milan, Turin and Padua. In Turin several police were seriously injured, and in Rome 16 people were reported injured, with three arrests and 140 taken in for questioning.
In Milan, banks were damaged and five police officers – mostly from the mobile squad that intervened to prevent the parade changing route to an area 'off limits' – were injured during the clashes. Naples and Bologna were also brought to a standstill with workers, teachers and students in the streets.
Tommaso Giuntella, from the Bersani (Democratic Party Secretary) Committee, said: "The violence must be condemned with no hesitation. And as always, these violent fringes obscure the right of those who protest peacefully against cuts to education and decent work."
The CGIL also condemned the violence but confederal secretary, Vincenzo Squire, said the Cobas and CGIL confederations had promoted the mobilisation in more than 100 Italian squares "for the work and solidarity against austerity" and "more generally against the policies that are only in the name of recession".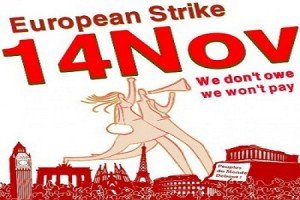 Mr Squire said the strike had been a success with an estimated 50 per cent of workers choosing to participate.
"We are extremely pleased with the success of the strike that comes at a difficult time and in a crisis that dramatically hits workers."
Students have been protesting side by side with workers, pensioners and vulnerable groups to reaffirm their disapproval of measures that the Monti Government wants for the Italian education system. The so-called Law Aprea has become a nightmare for the students of today and those of tomorrow.
In Italy one young person in three is unemployed, and until now many young Italians have opted to "escape" abroad causing a brain drain in their search for a job.
Now the over-18s are demanding opportunities to take control of their future and rejecting a "society that does not respect its citizens' rights, a ruling class unable to deal with the problem, and corrupt entrepreneurship". Some are also calling for new industrial, environmental and energy policies as well a fair distribution of wealth.
The unions want workers' rights to be enshrined in national contracts binding for all sectors, and  a change of course that would include progressive taxation, investments in research and development, and a stronger fight against corruption and tax evasion, insecurity and youth unemployment.
But the main demand of the Italian strikers was a major change to the Stability Law introduced to promote financial stability and growth of the economy.
In Italy, as in Europe, there are alternatives to the harsh austerity measures, according to CGIL youth leader Ilaria Lani.
"We ask the Government to immediately designate resources for social welfare networks for preventing temporary workers losing their jobs, for a real contrast to the insecurity through incentives for stable employment, and action to support young people in search of employment as in Europe.
"Our generation has grown up under the stars of Europe but we have always imagined a Europe that focuses on quality and sustainability of development, and well-being of citizens. As our slogan says, "We do not want the Europe of austerity, but a Europe with all the stars."
However, the widespread protests have not changed the approach of German Chancellor Angela Merkel.
"The right to strike is a great law of democracies and this is obvious. But what is needed has to be done anyway," she said in Berlin, dismissing any possibility of the relaxation of strict policies.
"Encrusted obstacles in the labour market should be removed," she said, adding that more flexibility would provide new chances for young people. "This will be told clearly to our unions."
The Chancellor said the November 14 strikes in European countries were a sign that "the EU policy is increasingly perceived as a domestic political issue". Merkel gave assurances she would aim for an agreement on the EU budget and "to go to Brussels with the firm intention of giving our best to reach an agreement".