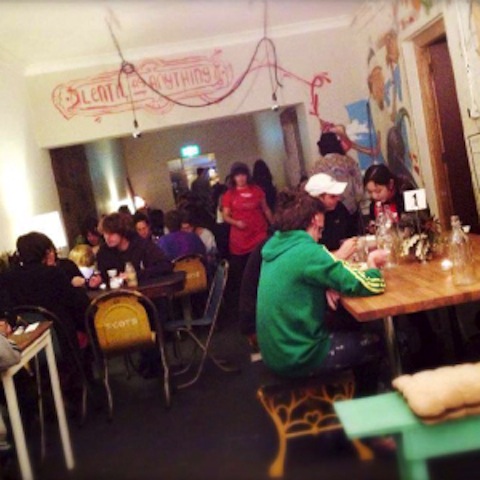 Like a hermit crab, Sydney's Lentil As Anything branch has now taken up long-term residence in King Street, Newtown after its temporary stint at Cookies and Milk.
Launched in Melbourne by Sri Lankan refugee Shanaka Fernando in 2000, Lentil As Anything operates on a pay-as-you-feel concept. Customers are welcome to a meal and can then donate any amount they choose or even walk out without paying, no strings attached.
NSW manager Matthew Pettit explains how the concept took seed.
"As a child Shanaka lived in a compound in suburban Colombo. He couldn't understand the difference between his side of the compound and the other side where children in slums had nothing to eat.
"It stuck with him all his life and when he came to Melbourne he had the opportunity to try something different. He didn't think it would last long, it was a sort of social experiment."
Young Fernando's utopian dream unexpectedly became a reality as the concept he created took off; a little slice of unaccountability in a money-governed capitalist world. Fourteen years later there are four Lentil restaurants in Melbourne, one in Sydney, and the desire and support to expand further.
Google is unfamiliar with the concept of pop-up eateries so the restaurant's new branch can be tricky to locate. A temporary sign reading 'Lentil as Anything: Food – Culture – Community' on the window aids famished fans in locating their elusive dinner-place.
Despite this the restaurant doesn't feel like borrowed space. It has been given a fresh coat of paint for the occasion and a brand new mural covers the far wall. Depicting a dancing piece of toast and various personified vegetables partying on a dinner table, it echoes Lentil's pleasantly quirky atmosphere.
Jute bags of Fair Trade tea hang on the opposite wall acknowledging the organisation's ethical consciousness, or perhaps simply concealing an air vent. Either way, it succeeds in giving the place a homely feel.
Empty milk bottles filled with dried flowers and dissimilar cutlery add to the overall make-do-with-what-you-have-at-hand attitude. The feel is one of an unplanned but expertly executed dinner party.
The mismatched tables, chairs and sofas are arranged to utilise the space in the most efficient manner. The result is slightly cramped but cosy all the same.
When attempting to seat customers the waiters acknowledge the elbow-to-elbow seating arrangements humorously: 'You'll have to feng shui your way into this one!'.
What strikes most at Lentil is the professionalism of the staff. When queuing outside, part of the ever-present line of hungry enthusiasts, a friendly waitress presents you with a prompt cup of spiced homemade chai and an apologetic smile.
While only the chef, sous-chef and floor manager are paid, in Pettit's words "a whole bunch of volunteers" serve and run the place.
These include Naci Misirli, a Turkish businessman who has been helping Lentil run sustainably.
"I landed two months ago," he says "and I loved the idea. That's why I got involved. I came to Sydney for business but now here I am."
While intriguing, Lentil is certainly a successful enterprise. Pettit mentions the crowds of customers visiting Lentil on a nightly basis. "We have an average of 150 people coming every night with numbers nearing 240 on especially busy nights."
The majority of the food served is bought, with the rest donated. "Somewhere between 20 and 40 per cent comes from donations and food rescue," Petitt explains, mentioning partnerships with Food Bank and Oz Harvest.
"We've also had individual members of the public come and say 'I'd like to donate 25kg of rice' or 'I've got a big bag of beans, would you use them?' and we gladly accept donations from people."
The food available on any given day determines the menu, which changes regularly. So does the entertainment, with members of the public invited to sing or perform at the restaurant.
"The idea of Lentil is not just a place for people to eat," says Pettit. His future project includes an art gallery space once Lentil has found a home of its own. He aims to "give the community the opportunity to be as creative as they can".
Despite Lentil not being solely about food, it is what draws most customers in. When unadventurously ordering the restaurant's eponymous burger for the second time, you may be surprised to find it's nothing like the last dish you ate there. Brought out on a square wooden board the most recent burger consists of a lentil patty on a crunchy bun, topped with sweet salsa and accompanied with dressed chopped vegetables and Sydney's tastiest potato wedges. Most other dishes come in bowls, like the African dal, a succulent stew of spiced beans served with a flour tortilla. Culturally undecided, the generous amount of vegetable curry blends Thai and Indian flavours, and comes with both rice and noodles as well as freshly-made poppadoms.
Tying in with the ethical motives, the menu is entirely plant-based, making the Sydney Lentil the first of its kind.
"We decided that we would go vegan as a trial and the feedback has been fantastic," said Pettit. "We wanted to make sure that Lentil here had a unique Sydney identity in creating something Sydneysiders could call their own."
Fortunately, Newtown is the perfect place to try something new, especially when involving tasty plant-based eats to delight Sydney's sizeable vegan community.
The Sydney Vegan Club was in fact Lentil's first large-party booking. Kym Staton, founder of the club and organiser of the event, said the evening was a hit. "It was a terrific night during which 80 of our members enjoyed yummy food, a great vibe, music and friendly service."
In addition, the donation box initiative will certainly have made settling the bill for such a large group much easier.
At Lentil, customers pay—if they so choose—at the door, by slipping their contributions into a large box after they have eaten. Most customers make a show of their payment, often pausing for effect at the door before donating to the box. They wave the bills slightly, in case any onlookers happen to be curious and willing to applaud their generosity.
As a large party at the front of the restaurant learns that donations are not left on the table but given anonymously, they begin to spread their notes out, eager to display their appreciation and financial contribution. Twenties are first fanned out in a peacock shape, then stacked together and slipped into the box.
Rare are those who scrunch up their bills and slip them in furtively, either shameful of their contribution or simply doubtful as to the legality of such strange mores. Most are proud to contribute to what they consider something of an ideal.
Pettit describes the Newtown community as helpful and forthcoming. "It's just a fantastic community, very giving and very sharing amongst everybody."
This is opposed to the wider Australian culture in which permeates, in his opinion, a "what's in it for me" attitude.
"It's a very me-me-me culture at the moment and we're glad to have something that counters that and creates a sense of community."
Pettit has found Sydney Lentil-goers to be particularly generous. "The average donation that we've been receiving in Sydney is higher than in Melbourne."
By the end of the night most walk out feeling satisfied, stomachs warmed by a mix of homely food and fragrant chai. But some may feel a slight tinge of guilt; did I leave enough cash? What could I be doing for the community?
Where: 391 King St, Newtown, NSW 2042
Phone: 0282835580)
Opening times: Lunch (12-3pm) Dinner (6-9pm)​
Contact: sydney@lentilasanything.com