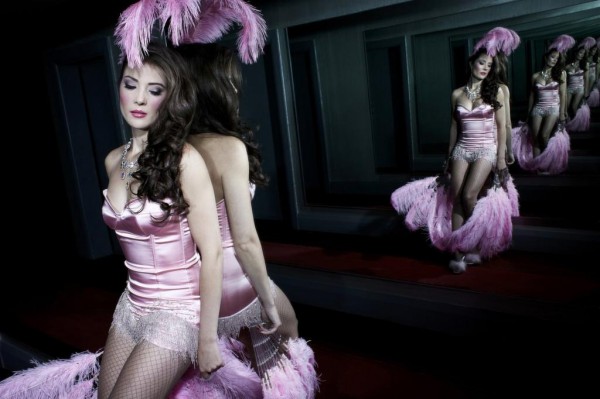 It takes a lot of sass to strip on stage – and a whole lot more to make it look classy.
Miss Burlesque Australia 2012 Briana Bluebell takes us beyond the sequins and suspenders to what lies beneath: a girl who never dreamed of stripping, yet fell in love with the artistry of classic burlesque and showgirl culture.
Bluebell's philosophy behind the fishnets and feathers is refreshingly no-frills.
"It needn't be complicated. The simplicity is that we exist with a certain level of sexuality and beauty within us all so why not put it to use?"
"There are so many dark ways that human sexuality is used, so I see burlesque as a positive way to celebrate the sexuality we have been given," she explains.
That's the million dollar question: what exactly sets burlesque apart from your stock-standard, sleazy strip show?
Pondering the difference, Bluebell says the former is artistic and theatrical whilst the latter is "just so boring".
"Burlesque can also be very pretty and beautiful, as opposed to sexy and provocative. There's a lot of work and money that goes into making the costumes, telling the story and choosing the music," she adds.
For the unacquainted, the philosophy behind burlesque seems to be that it is not about stripping but the quite distinct art of removing clothes. In other words, the art of burlesque lies in the delicate balance between what is concealed and what is revealed.
The tease.
In its original 19th century incarnation, it existed as a form of theatre for the working class and served to parody – or "burlesque" – the upper classes. Blending music, comedy, cross-dressing and dance to brazenly mock the aristocracy, stripping was definitely not on the cards.
It wasn't until several decades later when its popularity began to decline in Britain and the US that women's bodies were used to sell the dying art.
Meeting Bluebell for lunch in the city, I half expect her to show up in full showgirl regalia. Instead, I'm greeted by a demure young woman in a neatly tailored grey dress, oversized black sunglasses and flats, with her hair pulled back into a polished bun. The only hint of rebellion is a tiny diamond stud in her nose. She is on her lunch break from a temporary office job and concedes that the corporate look is "pretty funny" considering her usual attire – or lack thereof.
Bluebell is still basking in the joy of winning this year's Miss Burlesque Australia pageant. Reflecting on how her life has changed since being crowned in April, she is grateful for the opportunities that have arisen since.
"I feel like the timing was perfect," she says. "I was ready to take the responsibility that came with the title."
Asked whether her burlesque persona spills over into her everyday life, Bluebell is surprisingly coy: "My onstage persona is a lot more seductive and sexy than my every day personality. I don't like wearing low-cut tops or miniskirts or see myself as this sexy bombshell, and yet I strip down to a g-string and pasties!"
Not all her family members approve of her vocation, but to the judgmental, Bluebell (self-named in homage to her eye-colour and the Parisian Lido dancers who don't show their breasts) merely remarks, "we're all provocative in our own way".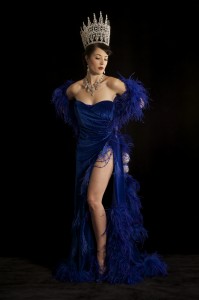 But onstage or off, there's no denying Bluebell's love for '50s femininity. Her penchant for the crisp cottons, taffetas, prints, colours "and of course, that ridiculous hourglass silhouette" defines her style, both day and night. She exudes natural Aussie girl-next-door charm and effervescence, but is at her most animated when talking about feathers, fan dancing and classic jazz.
Her first memory of burlesque was finding out who Dita von Teese was while in London six years ago. Interestingly, she bears a striking resemblance to Teese, the poster-girl for contemporary burlesque, from the ivory skin and perfectly-coiffed dark locks to the exquisite eye for detail and unfaltering sense of professionalism.
On that same fateful trip Bluebell saw her first burlesque show starring Miss Polly Ray and the Hurley Burley Girlies.
From then on she was hooked.
Bluebell has years of classical ballet, jazz and contemporary dance training to thank for her carriage, co-ordination and confidence. Not just a pretty face, she also has qualifications in fashion design, property management and hospitality and has dabbled in piano playing, pattern-making, song writing, event management, advertising and millinery.
She creates everything in her routine, from the music to the venue, props, costume, lighting and effects,and she revels in dreaming up the concept, slowly sourcing her supplies, and seeing it all come to fruition. And she relishes her creative control and enjoys being her own boss, with no-one telling her what she can or can't do.
Burlesque, which dates back to the 1860s,  goes in and out of fashion, she says. Once considered a dying art, it is now enjoying a very glamorous return to the spotlight thanks to films such as Chicago, Moulin Rouge!, Nine and Burlesque.
"At the moment it's become a trend again but we don't know how long it will last," she says.
There is an interesting dichotomy at the heart of Miss Burlesque. She strips onstage for a living, yet describes herself as "prissy and prude". Her favourite band is rock outfit Muse, but she also adores Edith Piaf.
And despite her high-gloss exterior, Bluebell is still refreshingly down to earth, onstage and off. One of her routines sees her singing a (presumably self-penned) ditty called "My Un-favourite Burlesque Things" set to the strains of the Sound of Music classic, lamenting such artistic perils as holes in stockings, missing garter belts, curls that won't stay in, safety pin injuries and unresponsive audiences.
She recalls her most disastrous strip moment with a shudder. "I did the clichéd pastie pop," she says shamefully. For those who don't know, pasties are the minuscule glue-on nipple patches or tassels used during a strip show to provide an iota of coverage for the performer.
"I was so devastated. I mean, I know that I do a strip tease on stage but the pink bits are sacred. I was pretty devastated for anyone to see my pink bits," she deadpans.
Most burlesque performers have a signature act. While Dita von Teese splashes around in a giant cocktail glass, Bluebell's trademark routine sees her channelling Bond villainess Electra King from The World Is Not Enough. Dressed to kill in lace and satin, she performs her strip tease draped over a giant rhinestone-studded rotating gun.
This was the routine that saw her crowned Miss Burlesque Australia 2012.
In the track to which Bluebell performs her strip, Garbage frontwoman Shirley Manson purrs "I know what to show and what to conceal", a fitting sentiment.
Her other routines include everything from a very glamorous incarnation of Nefertiti and Marie Antoinette to Mexican day of the dead; from baroque to ballerina, Vegas to Victorian, showgirl to geisha and Arabian to Bohemian, it could be said that Bluebell's life is the most sophisticated game of dress-ups imaginable.
And for a girl who has made a living taking her clothes off, she has certainly caught the eye of the fashion world. She has graced the cover of Marie Claire, posed for clothing brand Tarocash and collaborated with iconic French shoe designer Christian Louboutin, a project for which she had to model one of his red-soled stilettos in her hair.
Proud of her achievements so far, Bluebell wants to compete at the Burlesque Hall of Fame and be able to live purely off the earnings of her burlesque work.
"If I wasn't performing I'd still be doing something creative," she muses. "Either fashion or stylist work. I'd love to have my own label down the track. That was my goal by the time I was 30, but I didn't expect to encounter burlesque."
Asked where she sees herself in ten years, the 29- year-old is resolute. "Finished my burlesque career and settled down with kids," she says without missing a beat.
But until then, Ms Bluebell is taking on the world, one sequin at a time.