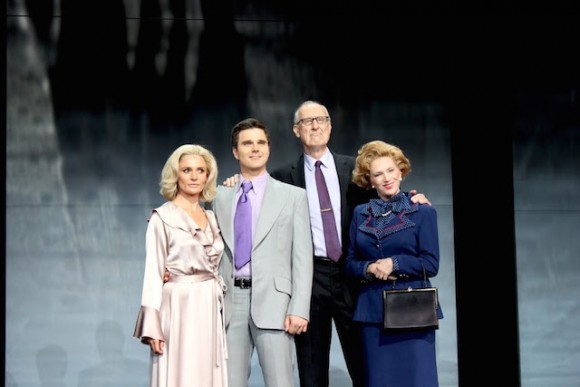 US actor James Cromwell would hardly be surprised by the latest controversy that has engulfed media mogul Rupert Murdoch. The former Australian has earned much opprobrium on Twitter for tweeting his congratulations to his tabloid Sydney paper, The Daily Telegraph, for its "scoop" on the tragic developments in the Lindt café siege at 2am this morning.
"AUST gets wake-call with Sydney terror. Only Daily Telegraph caught the bloody outcome at 2.00 am. Congrats," Murdoch tweeted.
The outrage on Twitter has focused on the fact he did not offer condolences but exulted over his paper's coverage, and also on The Daily Telegraph's front page headline yesterday, "Death cult CBD attack". It is becoming more evident that this was less a terrorist attack than the criminal act of a mentally ill man with a long history of violence. Many on Twitter are urging people to complain to the Press Council.
This response tallies with Cromwell's strongly critical view of Murdoch's power but you would hardly know that from his portrayal of the mogul in the David Williamson play Rupert now in the final days of its Sydney season at the Theatre Royal.
James Oliver Cromwell is well known to Australian audiences for his role as Farmer Hoggett in Babe, for which he earned an Academy Award nomination for Best Supporting Actor.
Asked if he felt Australia had promoted him from playing farmer to powerful media mogul he quipped that he felt he was being degraded from "an authentic, compassionate, loving, inspirational human being, to a disaster".
So why did he accept the role? "Mostly because it scared me. The size of the role, the intensity of it, " he said.
Cromwell had been considering a play in New York but when offered Rupert he thought: "Wow, someone is taking on Rupert Murdoch and I want to be part of that."
But there's a more compelling reason Cromwell reveals as he compares Murdoch to a clay monster in the Jewish tradition that devours children and people.
"He's the Gollum. The dragon has to be addressed: we have to be able to confront this man. He reaches 70 per cent of the people on the planet with his point of view," he said.
"Were his point of view life-affirming, reasonable, loving or balanced, that would be different; instead it is hateful, divisive, misinforming, manipulative and simply for his own aggrandisement.
"Why does Murdoch not support renewable energy? Because his company is in bed with extracted minerals, oil and everything else, so instead of seeing what is happening in the world, he will doubt it until it shifts enough when he will take his portfolio and shift to another thing.
"I think you have to tell truth to power, question that kind of authority."
Murdoch is Australian by birth, although he is now an American citizen, and the current Prime Minister Tony Abbott has described him as a great Australian.
Asked if he detected a different attitude to Murdoch in Australia Cromwell said he had seen the "detritus of his empire" all over, but didn't see that Australians read him with "any more discretion" than people in America.
"In the US, 50 per cent of the population watches Fox News with no understanding that it does not represent any effort to tell the truth; it is simply opinion, propaganda of Murdoch's particular world view. I don't feel that the Australian people are any more savvy to him than are American people."
He said in the US, people on the left saw Rupert, not the person but the phenomenon, for what it was but the people on the right – because of the US education system – had no idea.
"They will vote and support positions that are inimical, detrimental to their rights, if told to do so by the organs that Murdoch produces."
Cromwell's appearance on the ABC's Q&A generated a lot of chatter on Twitter, much that was supportive but some that asked how he could possibly play Rupert when he held such strong views about him.
"I can play Rupert because I do have such strong feelings about him. I don't know how you would play him if you had no feelings at all. It's the feelings that guide you.
"I'd love to have a discussion about the issues. What do you care about? What do you want for your children? What are you going to do about your schools, your roads, your water, the planet? What are you going to answer when your children ask what the hell did you do? I want to hear their answer to that."
During his career Cromwell has been nominated for an Oscar, four Emmy Awards, and four Screen Actors Guild Awards. He won the 2013 Canadian Screen Award for Best Actor for his role in Still Mineand the 2013 Primetime Emmy Award for Outstanding Supporting Actor in a Miniseries or a Movie for his role in American Horror Story: Asylum.
He is now playing Rupert in a hilarious, cabaret-infused tale of the life and times of the media mogul as he charms some of the most colourful characters of the 20th century including Margaret Thatcher, Tony Blair, Ronald Reagan and Wendi Deng.
Catch Rupert at the Theatre Royal before the four-week season ends on Sunday December 21. It's worth the effort.