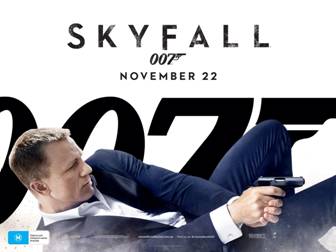 The name's Craig; Daniel Craig!
Before you accuse me of using the wrong phrase, let me say this: Skyfall is being touted as the best Bond movie, ever. And who else but Craig could recreate Ian Fleming's iconic British secret-agent-with-sexy-panache character to a T?
This 23rd instalment sees Bond's loyalty to M (Judi Dench) being tested, as her past comes back to haunt her.
007 must track down and destroy the threat, no matter what the personal cost.
All the qualities that make a classic Bond movie—heart-stopping action, scene-stealing villains, beautiful Bond women, exotic locations, a killer theme, the Aston Martin DB5—all reappear in this latest offering by Sam Mendes.
But, shot in the United Kingdom, Scotland, China and Turkey, there is something special about this one.
"We wanted to make Skyfall ingrained with core British values. Making this movie unmistakably British was a dream of ours," Craig says.
"Sam put everything behind it. He put all of his knowledge of movie making behind it, but also his knowledge and love of Fleming and Bond."
Producer Barbara Broccoli adds that Mendes, with his knowledge and history, identifies with the audience. "He knows what works and what an audience is expecting," she says.
Even though the script has been kept under wraps, what is already known to work in favour of this film is the actual bond [pun intended] between Craig and Dench, both on and off-screen.
As Dench puts it, "Daniel and I struck up a good relationship the first time we worked together and that relationship has developed as each script requires something a little bit more from us. That is especially true with Skyfall."
Craig agrees and says the relationship between their characters is based on mutual respect. "They both know that every time the chips are down, one of them will have to make a sacrifice."
The villain pitted against MI6 this time, Silva (Javier Bardem), has received great praise for his work.
According to Mendes, Bardem manages to make his performance, "real enough, but also have flamboyance…to be playful and mischievous, but never lost the danger, the mystery, the strangeness, the otherness."
Bardem describes his character as "an angel of death".
"He is a very clean-shaven person who happens to be rotten on the inside. He is a man seeking revenge, and focused on the one person he wants to eliminate."
The film includes other great performances by Ralph Fiennes as Mallory, Ben Whishaw as Q, Bérénice Marlohe as Severine (the Bond Girl), and Naomie Harris as Eve. The soundtrack is by Adele.
Simply Bond, simply classic, simply British, and featuring an amazing train action sequence, this one is not to be missed.
And yes, this film brings back the Aston Martin DB5 that featured in Goldfinger, Thunderball, Golden Eye, Tomorrow Never Dies and Casino Royale.
Skyfall releases in Australian cinemas on November 22.