On May 17, Food Revolution Day took over schools, workplaces and households across the world to spread a message: eat good food. It seems simple but it has been one of the hardest messages to convey.
An initiative of famous foodie Jamie Oliver, Food Revolution Day (FRD) is a global day of action to make a stand for good food and essential cooking skills. The day was marked by people coming together within their communities to cook and share kitchen skills, food knowledge and resources to raise awareness about the importance of good food and better food education.
So in a world where there is so much hunger, why do we need a Food Revolution Day? Over the past two decades, obesity levels have been on the rise, yet governments have failed to deliver successful initiatives to fight the fat.
In 2012, the Australian government proposed a fat tax, which was under debate until just last month when a decision was finally made. The government announced funding for a three-year study investigating whether to back a fat tax on fast foods in a bid to tackle Australia's obesity epidemic.
But a fat tax will not actively change people's eating habits and is not the way to fight obesity: we need action, and we need it now.
Obesity is the single biggest public threat to public health in the developed world today.
According to the World Health Organisation (WHO), worldwide obesity has nearly doubled since 1980, with 35 per cent of adults classified as overweight and 11 per cent obese. Recent studies by Monash Obesity and Diabetes Institute (MODI) have found that the prevalence of obesity in Australia has doubled over the past 20 years, with 63 per cent of Australian adults and 25 per cent of children overweight or obese.
Professor David Raubenheimer from the Charles Perkins Institute at the University of Sydney described the increase over recent years in the rates of obesity and associated health problems in Australia and worldwide as "truly alarming".
"Developing a culture of good eating, especially for kids, is therefore critical," he said.
Professor Raubenheimer said community initiatives offer fantastic opportunities for influencing eating habits. "This is particularly so if the initiatives involve high-profile cultural heroes such as celebrity chefs."
But he warns the trick to these initiatives is to ensure that the influence is in the right direction, which is not always the case. "The goal for many celebrity chefs and their followers is to produce dishes that are pleasing to our senses rather than specifically healthy, and eating pleasure often goes against our best interests," he said.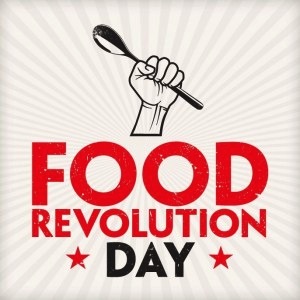 This is where Food Revolution Day steps in. The initiative has been doing what governments have not by actively educating the public about cooking skills and healthy eating habits. In this way, the day is getting communities thinking and learning about good food and changing people's lifestyles for the better.
Food Revolution Day is focused on healthy, fresh food and has a number of strategies in place to ensure this idea sticks. Free resources and recipes on the FRD website give guidance on healthy food, while the placement of food ambassadors in the cities involved make sure Oliver's message stays true.
Overall, the initiative has been a massive success.  This year, only its second, over 1200 events were held across 660 cities in 74 countries educating people about good food.
In London, Jamie Oliver held a street party boasting celebrity appearances, musical performances and cooking demonstrations from the man himself. The party was broadcast live across the globe viaFood Tube, Oliver's own YouTube channel, allowing people to connect with the London event.
Oliver's clever use of celebrities and social media to promote the day inspired thousands of people to get involved. Celebrities from Russell Brand to Hugh Jackman, and even Prime Minister Julia Gillard showed their support through video messages, encouraging others to get on board.
Along with these videos, Oliver spread his message via Twitter, Instagram, Pinterest and Tumblr and asked others to do the same using the #FRD2013 hash tag.
In Sydney, Food Revolution Day was in full swing with a number of events across the country. Alexx Stuart, a food ambassador for the day in Sydney, held a 'love real food' picnic at Centennial Park, with an open invitation to all food lovers across Sydney. The theme of the picnic was DIY, meaning everything had to be made from scratch.
Alexx said the event was a great success, encouraging an interest in cooking and proving just how easy it is. "I created that picnic because I think people need easy, unobtrusive ways to gently change their lifestyles," she said.
The idea behind the day was getting people to put their hand up rather than telling them what to do. "It's a much better energy if you want to create change," she said.
A firm believer in the potential for this worldwide event to combat obesity, Alexx believes  Food Revolution Day will only get bigger and better. "It will be massive in the future," she said.
What Food Revolution Day is attempting to do for public health is undeniably good. Governments have failed, and the public has taken it upon themselves to fix the obesity problem.
FRD has a winning formula:take one part celebrity chef, add a handful of events and a dash of social media, and you've got a recipe for success. Only time will tell if this recipe is a remedy for obesity.