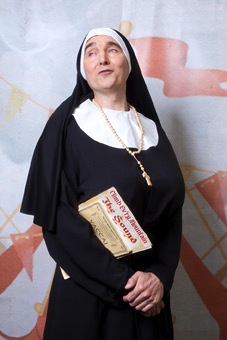 What do an Irish nun, a church musician and a sexually frustrated relationship counsellor have in common? Many things possibly, but among them the fact they are all characters created by performer Robert Hoffman in his acclaimed show, Desperately Young at Heart.
A versatile singer, Hoffman brings an outrageous range of characters to life in his one man-show coming to Newtown later this month.
"As the title implies they're all desperately young at heart," he said. "They are all around forty and wish they'd had more fun in their twenties."
The loveable characters, with their own quirks and insecurities, are presenters at a conference for singers and singing teachers and as Hoffman dons everything from four-inch heels to a nun's habit, they take turns addressing the audience.
Hoffman said the characters are based on people he has met or a blend of various characteristics he has observed.
The inspiration for relationship counsellor Helmut Wunderlicher is drawn from his time around his German uncles, with a touch of his own flair thrown in for good measure. And Sister Maureen Virgillious, opera-singer-turned-nun, can be traced to the influence of his Catholic upbringing and a love of classic musicals such as Dan Goggin's Nunsense and The Sound of Music.
"I've come across a lot of highly-educated singing teachers who are a bit jaded," said Hoffman, explaining the genesis of Dr Kay Overit, the keynote speaker of the conference. "Hopefully she resonates with people."
Hoffman transforms himself into these characters on stage, including attire, in full view of the audience. "They're pretty quick; less than a minute," he said. "I'm often humming or singing while I do it; some of the costume changes are part of the songs."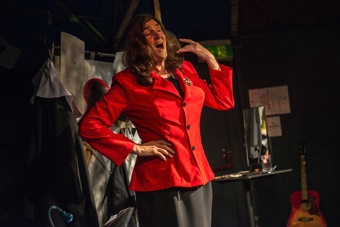 The show ends with "You are the subject of my next sexual fantasy", written especially for this production and arranged by Anthony Cormican. "I wanted a Grace Jones retro-pop feel and, after a few different versions, we came up with something."
It's the only song in the show sung alongside a backing track; the other songs are accompanied on piano. "It ends the show in a crazy way – the way the show runs it needs to end with something bizarre."
Growing up, Hoffman loved singing around the house and was a die-hard ABBA fan, but he only discovered his voice at age 22 while studying music at university after years working for the family business and pursuing an accounting degree.
"One of the lecturers said I had a nice voice, you should consider having some lessons. I did, and it all went from there."
He discovered that while he had a beautiful baritone, he could also sing in falsetto. "It means I can imitate women's voices," he said. This outstanding range lets him bring his cast of characters to life on stage for a night of hilarity on high-heels.
Desperately Young at Heart is on from September 23 to 27 at the New Theatre, 542 King Street, Newtown. For more information and to book, visit www.sydneyfringe.com, www.newtheatre.com or call (02) 9550 6087.