Imagine you are on a boat with some people for several weeks on the endless ocean. The destination is a magic and strange land but for you and your shipmates, this is a one-way journey with no turning back.
The boat is battered by waves that make people fall into the sea over and over again. Luckily, you can struggle and swim back, but others lose their lives. In the days that follow you suffer hunger, exhaustion and fear. But you dare not sleep because you hear a strange sound coming from a sea monster that seems to be not far from you and may jump out of the water at any time.
Finally, you begin to smell a mixed scent of fruit and flowers. You look into the distance through a blue-grey fog over the sea. A colourful land with beautiful trees and strange animals gradually appears to you. But, suddenly, several low-flying helicopters pass over your head. You are jolted upright by the buzz again.
This is the content of the mural, The Journey to Australia, in the Museum of Contemporary Art's foyer. Its author, Guan Wei, is an ethnic Chinese tall man who is now standing among the gallery visitors with a glass of champagne. His friend, MCA curator Anna Davis, is speaking on stage, expressing gratitude for his contribution.
"The scale and ambition of Guan Wei's new mural is impressive and will be a fantastic addition to the MCA series of wall commissions," she says, her voice conveying her  excitement.
Davis loves the story in Guan Wei's mural which talks about not only the history of Australia, but also contemporary refugees who are risking their lives to come here.
"We think this is a very interesting piece that talks about these issues in a very imaginative way," the curator says.
She also believes that Guan Wei is a very important painter in the contemporary art circle.
"He is someone who has really built up his art career in Australia. He began in China, and then came here in the 1990s. He is someone whose work has changed and developed. He is a very important figure in the contemporary art world."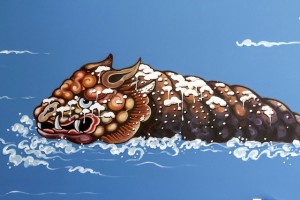 As she finishes her speech and the guests applaud, Wei humbly bows, acknowledging the warm reception that has met his new work.
Guan Wei was born in Beijing in 1957. He is a descendant of the Manchu nobility who ruled China during the Qing Dynasty and his great-great-aunt was the mother of the last Chinese emperor, Puyi. Guan Wei inherits not only the Manchu stalwart figure but also the fascination of Manchu culture which is creative, humorous and communicative.
His father was a great lover of Beijing Opera and when Wei was a small child, taught him operatic songs, calligraphy and traditional Chinese painting; these have strongly influenced his subsequent works.
"The Beijing Opera, the colour and gesture, is there in the surface of my pictures, but the deeper human aspects of personality are behind my pictures," he said.
After he graduated from university in China, Guan Wei became an underground artist and an art teacher in a school.
"At that time, most of the works of Chinese artists were propaganda. The content was very political and serious. But I prefer to combine playfulness and humour with visual language," he said.
Although his work did not attract major attention in China in the 1980s, Guan Wei became gradually popular among Beijing's diplomatic circles. Many diplomats invited him to exhibit his works at their home parties and his first solo exhibition was held at the French embassy in Beijing in the late 1980s.
In 1989, he was presented with an opportunity, with two other Chinese underground artists, to be guest artist at the Tasmanian School of Art.
That was the beginning of his love affair with Australia, a country that inspired in him not only a deep appreciation of its beautiful natural environment but also of its climate of freedom. The tone of his work changed from grey to bright colours. Australia's colourful animals and plants fascinated him, and he developed a unique style painting real and imaginary animals, naked pink bodies and Buddha-like faces.
Australia's blue ocean and beautiful beaches have especially inspired him. More and more brilliant blues and sea greens began to shine on his canvas and water and islands became important motifs.
"Water can deliver different feelings for different people. You can feel calmness and relaxation in the water. But water can also bring you a sense of isolation that creates distance among humans and between humans and God," Guan Wei said.
I first met Guan in the Martin Browne Gallery. His old friend, the gallery's director Martin Browne, was very proud of him, saying he had confidence in his new works even before they were delivered from Beijing.
"I know he is a very professional and highly talented artist. I am confident in whatever he gives me," Browne said.
It was a warm afternoon and the air was filled with the scent of roses. There on show were his series of three paintings: Twinkling Galaxies, Water World, and Isles. Also, a series of sculptures titled Ocean.
In these works, Guan Wei painted the kangaroo as a constellation in the sky, pink bodies with only one mouth comfortably floating in the ocean, and a group of naked bodies living on a small island.
Guan was charming and full of humour. His fingers moved quickly when he pointed at pictures and told stories about his works. His eyes were bright and always followed the movement of his fingers, which reminded me that he had studied Beijing Opera with his father.
Guan told me these works reflect his experience of Australia. As a migrant, he has gradually adapted and merged into Australia's culture and society. Now he is familiar with and loves this land that is his home and that gives him a feeling of stability and confidence. At the same time, he is also gradually becoming recognised in Australia. His title has progressively changed from "Chinese artist" to "Chinese-Australian artist" , "Australian-Chinese artist" and finally "Australian artist".
"This is a two-way recognition. You recognise this land and this land and its people recognise you," he said, looking around at his works.
"But during this process, you cannot avoid alienation, helplessness and anxiety. This feeling is like a person living in a small land with nothing but water."
Guan said he had been surrounded with this indelible sense of the island, even when he returned to Beijing in 2008.
He will never be totally rid of this sense, a feeling that can be understood by every migrant. Maybe this is why people standing in front of Guan Wei's works can deeply share his feelings.
But Guan Wei is not only a good painter; he is also a master storyteller. His works embody his compassion for humanity and yearning for global harmony: like the scene on the extreme left of the mural, The Journey to Australia, the pink bodies finally disembark and start their happy lives in a wonderland.