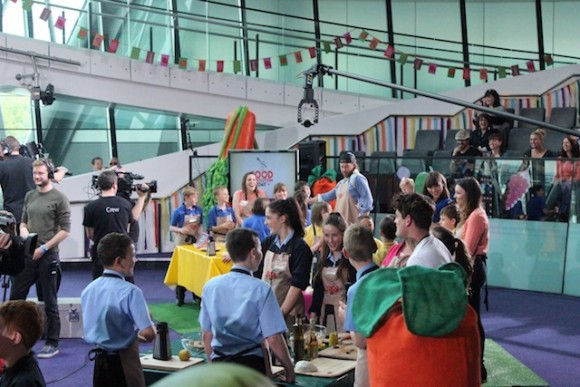 Thousands of children across the world were grating veggies, shaking jars of dressing and making rainbow salad wraps as part of a Guinness World Record attempt on May 16.
The day was Jamie Oliver's third annual Food Revolution Day and to celebrate, the famous chef set his most ambitious challenge yet – to break the Guinness World Record attempt for the biggest cooking lesson in multiple venues over a 24-hour period.
To achieve this mission, Jamie organised a LIVE cooking lesson making his kid-friendly rainbow salad wrap recipe. At 2pm British Standard Time, Jamie was joined at London City Hall by some fellow food tube talent to help prepare his Rainbow Salad Wrap recipe with students from five lucky schools selected to take part.
With the help of the Times Educational Supplement (TES), the cooking lesson was streamed live to over 4000 schools across the UK and more than 10, 000 schools worldwide. The school children got their hands dirty grating beetroot and crumbling feta while more than 24,000 viewers across the world followed online. Just over half an hour later, thousands of delicious rainbow salad wraps and a new world record had been made.
The challenge was, of course, a piece of cake for the world famous chef. By the time the UK was waking up on Friday morning, Woolworths supermarket in Australia had already smashed the record with more than 2000 pupils cooking along to Jamie's pre-recorded cooking lesson, simultaneously creating their own record for the biggest single cooking lesson. As the day went on, the numbers only got better with the total number of participants reaching over 237, 000.
But the success didn't stop there. As well as breaking two world records, there were over 9000 individual events held in 121 countries (that's over 60 per cent of the globe), and the food revolution day message reached more than 300 million people on social media alone – about one in every 20 people on Earth. Compared to last year's food revolution day, which pulled in just over 1000 events across 78 countries, this year's numbers prove FRD has captured the world.
Above all these achievements, Jamie hopes the sheer numbers will send a message about health to the government. "The number of people involved and supporting Food Revolution Day suggests that all governments – UK and internationally – need to urgently wake up to the crisis of obesity and diet-related disease," he said. "I would love the British political parties to make election pledges in their manifestos so that we could look forward to some strategic, coordinated, cross-department policies to get Britain healthier."
While he waits for the government to take action, Jamie has set himself a personal challenge to target obesity, making a commitment to lower childhood obesity by 5 per cent in five years. It's certainly a big feat, but if anyone can do it, it's Jamie Oliver.
With all these accomplishments, food revolution day 2014 was by far the biggest and best yet. We can only wonder where Jamie will take it from here.