The legacy of renowned filmmaker John Davis was honoured at the NSW Parliament last month when he was named the first recipient of the Climate Champion Award.
 On hand to receive the award in recognition of his environmental efforts and his documentary Coal- is it worth it? was his widow Felicity Davis, surrounded by their children and grandchildren.
"I am very glad to accept this on John's behalf," she said as she spoke about the making of the film and thanked the editors for their work.
"I am so glad we did put this film together and I hope we can get this out into the regions everywhere and talk to people who are still denying climate change. The people we really want to talk to are the ones who are complacent or sceptical."
Mrs Davis praised the work of ex-Prime Minister Julia Gillard and said, "We started going backwards ever since Tony Abbott came to office".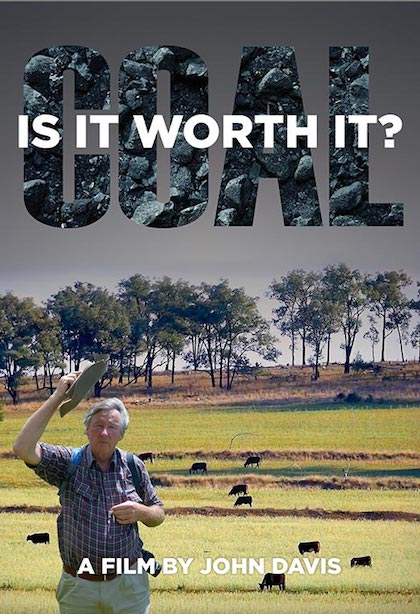 The special evening included the first public screening of the documentary, Davis' final project. The renowned filmmaker and activist died in a helicopter crash in November 2015 while filming this documentary.
He wanted to show the damage caused by Shenhua's coal mine on the Liverpool Plains of NSW. His family and friends completed the one-hour documentary that exposes coal business in NSW and its impact on the environment and local communities in his memory.
Around 80 people gathered at the Parliament Theatrette to watch the documentary and pay homage to his life and work, including Greens MPs Justin Field and Jeremy Buckingham who organised the event and presented it as a forum to reflect and act together on climate change.
"John wanted this story to be told," Mr Field said. "We created this annual award to recognise climate champions in our community, those who donate their time and energy to set us free from the shackles of fossil fuels. We are honoured to acknowledge John's contribution with this award. John was a friend, a Greens member and an outstanding advocate for action on climate change and for renewable energy."
Mr Field said the Davis documentary should be used to generate "more energy and inspiration to do more and to escalate our efforts".
His fellow Greens MP Jeremy Buckingham said action on climate change was the most urgent task facing politicians and the community and spoke of the necessary change of energy systems in Australia, NSW and globally.
"Thresholds are being broken and the climate impacts are hitting," he warned the audience, mentioning "a tsunami of data coming in about climate change".
Mr Buckingham also criticised the inaction of the government and called for the phase-out of thermal coal mining in NSW.
The recent energy crisis in South Australia and public concern have attracted attention to the issue making transition to renewable energy a hot-button political topic.
In the national race for a sustainable energy supply, the ACT leads the way with an official target of sourcing 100 per cent renewable energy by 2020. Victoria aims for 40 per cent by 2025.
NSW lags behind with no specific clean energy target. It was ranked worst state for renewable energy in the Climate Council Report in 2016.
In the 2016 NSW Renewable Energy Action Plan, Don Harwin – who holds the dual portfolios of Minister for Resources and Minister Energy and Utilities – has highlighted the importance of increasing the diversity of supply through renewable energy. The report points out that only 14 per cent of the energy mix was renewable in 2015 compared to 79 per cent coal.
According to the Australian Bureau of Statistics, around 90 per cent of Australian coal is mined for export, and this issue was also raised at the Climate Champion Award event.
The Greens MPs said that even if Australia shifted to 100 per cent renewable domestic energy generation, the country would still contribute to climate change through the mining and export of thermal coal.
Mr Buckingham recently introduced a bill in the NSW Parliament which will set a 10-year phase out timeline with a total limit on the amount of thermal coal that can be mined in NSW.
"Farmers, landholders and people from across NSW continue to come together to reject the impact of coal mining on their land, their water and their community," he said.
"NSW must phase out coal and coal seam gas mining over the next decade. If we fail to make the necessary changes to significantly reduce emissions now, then catastrophic climate change will be unavoidable."