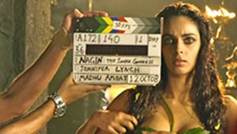 Penny Vozniak's compelling documentary Despite the God's captures the literal blood, sweat and tears involved in the process of making a film.
The documentary follows director Jennifer Lynch, daughter of eccentric filmmaker extraordinaire David Lynch, as she shoots her third feature film in India.
Despite the Gods documents Lynch's cross-country filmmaking Odyssey, from the chaotic city of Chennai, the jungles of Kerala and madness of Mumbai.
Hisss, Lynch's own film, is an overly-ambitious project about a seductive snake goddess, featuring Indian starlet Mallika Sherawat.
Whilst Vozniak offers a tantalising behind-the-scenes look at the making of Hisss, the personal and professional struggles of Jennifer Lynch are the main subjects of the documentary.
For the self-proclaimed sober, sexless 40-year-old filmmaker, the stakes riding on the success of her film couldn't be higher.
Lynch speaks candidly about her attempts to shuffle out of her father's shadow and reignite her directing career."Maybe this is some grand experiment about my inner demons," she says, smiling wryly at the camera.
The cast and crew of Hisss feature heavily in the documentary, including the multitalented film caterer Krishna, who lends his voice to the sound effects crew.
"This is how we do it in India folks!" rejoices the film's sound recorder as he captures Krishna mimicking a baby's cry and a screeching cat.
A minor shortcoming of Despite the Gods is the documentary's rather hasty conclusion, distilling months of the filmmaking process into mere minutes.
Although Hisss was ultimately a flop, panned by critics and audiences alike, Jennifer Lynch redeems herself as a talented and passionate individual in Despite the Gods, making for a captivating viewing experience.
Sydney Film Festival 6:30pm, June 9, 2012