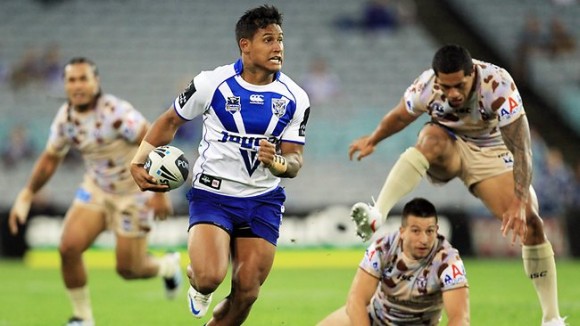 It's time to dust off the mouldy boots and replace the old peas in dented whistles: this old Rugby League warrior (spectating only these days) is avidly anticipating the kick-off to the 2013 National Rugby League season.
Like many other supporters, I am a little concerned with recent developments in the game concerning drugs and organised crime. I won't dwell on those issues here – I may in future try and discuss this multi-layered issue – but for the time being, let's be satisfied with the age-old rivalries between the Dragons and the Rabbitohs, and the newer but just as intensely felt competitiveness that has developed between the Sea Eagles and the Storm.
For now let's focus on the star quality of Ben Barba from the Bulldogs; this guy is becoming an absolute star of the game, and while still a relative rookie has the potential to become one of the most electrifying running backs the game has seen.
What about the return of Sonny Bill Williams? Is this good for the game?  Will he be able to stand up to the week-in, week-out rigours of what is considered the physically hardest football competition in the world? Will supporters love him or ridicule him as he returns to the code that he turned his back on?
There is so much to look forward to in this upcoming season. Embrace it, watch it unfold, and enjoy the spectacle of one of the best sports this country has developed over more than a hundred years.
Horse racing may be the sport of kings but Rugby League is the sport of the working class, developed as a breakaway code from the gentlemanly Rugby Union by working men in England, and embraced in Sydney by similar people with similar ethics. The sport was embraced then; it's time to embrace it again in what may be one of Rugby League's darkest hours.
I hope the sport of the masses can survive this latest test to its stature. I think it will, for the simple reason that there are more genuine players in the game and more genuine spectators supporting the game than there are criminal or murky figures trying to ruin it.
The season is about to begin; the combatants are done with preparing and ready to start competing. Lovers of the game are all set to don their tribal colours and decorate their faces in age-old war paint to show their support not just for their chosen team but also for the game they grew up learning to love.
Rugby League is here again and this old fan can't wait for the season to kick off. CARN the DRAGON'S!!!