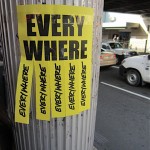 Everywhere everywhere where art thou everywhere…
I've seen everywhere the tag Everywhere, and I gotta be Frank Black 'bout it, I Don't Like It! (sorry bra, whoever u are)…the everywhere tag doesn't go anywhere.
But here is the cleverest everywhere to date (apply within…and without you)…spotted in Burwood, the new forest of street dreams.
Give it whirl if you're in the Wood.
Goran Tomic June 2012