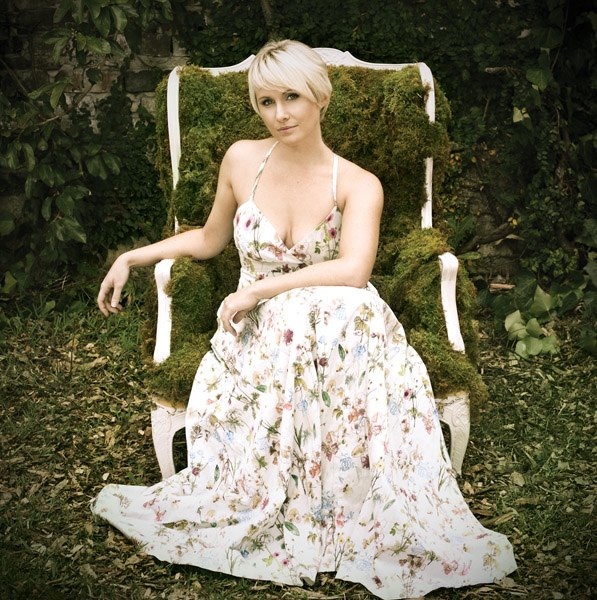 To say Emma Pask has had a busy year is somewhat of an understatement: the 36-year-old scatted her way on to season 2 of The Voice Australia; made a very special friend in none other than Ricky Martin; was signed to Universal Music; married a delightful South American (no, not Martin); and launched Season of My Heart, a gorgeous collection of Christmas classics and a smattering of Pask originals.
Looking festive in green and gold, Pask took to the stage at Blue Beat Bar and Grill in Sydney's Double Bay on December 5 alongside her swingin' trio (Kevin Hunt on piano, Phil Stack on bass and Tim Firth on drums) to launch Season of My Heart.
"I'm spending my honeymoon with you all," jokes Pask, who was very recently married in Noosa.
Opening the set with "Silver Bells", Pask and her band performed a selection of tunes off the new album including "Zat You Santa Claus?",  "Have Yourself a Merry Little Christmas" and "The Christmas Song (Chestnuts Roasting on an Open Fire)" as well as a handful of jazz favourites.
Original title track "Season of my Heart"- co-written with Ilan Kidron of the Potbellez and bass player Jonathan Zwartz – is all class and gets to the essence of what Christmas is about for Pask: "Heading home and getting back to family time, no matter what's happened in the year. A time when you can come together and reflect on the year that has passed."
And what a year it has been. Catching up with Pask a week after the launch she is still delighted. "It was a wonderful night. I was just so thrilled that people came to the gig. We had a ball and I think the trio played wonderfully as they always do."
Since enchanting audiences with her rendition of "Mas Que Nada" on The Voice, and with two lovely South American men in her life (Martin and new husband Rodrigo), it only seems natural for Pask's next move to be in a Latino direction.  A good guess, Pask assures me.
"Universal and I are already working on the next album. It's gonna be great fun."
And who could forget when Martin invited Pask to record with him on his upcoming Brazilian album on live national television, a gesture that left Pask completely "blown away".
"I think my face said it all," she confides.
"Working with Ricky was wonderful. He is a very generous man with a huge heart and passion for music. I couldn't thank him enough for all of his support and encouragement and all he would say in return was, 'it's all you'."
Number one on Pask's wish list this Christmas is, not surprisingly, a holiday. "I really want to go camping! No makeup, no fancy clothes, no early starts. Camping by the beach… That's all I want for Christmas!"
And for Emma Pask, it's nothing but blue skies from now on.
Season of My Heart is out now under Universal Music.