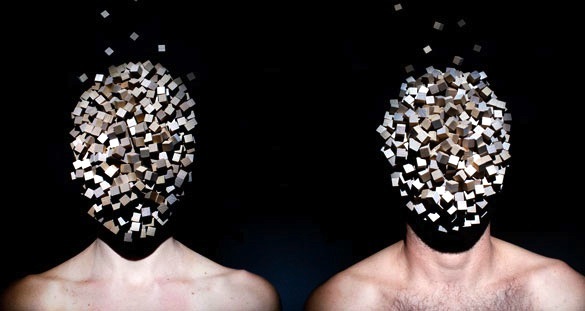 Award-winning choreographer and dancer Byron Perry is set to amuse and entertain audiences with a double take at the Seymour Centre's Reginald Theatre from August 21 to 24.
The Force Majeure associate director is presenting Double Think, a program of two very diverse pieces,"Gogglebox" and "Double Think", that will showcase dancers Kirstie McCracken and Lee Serle.
Perry says audiences can expect an entertaining show that includes object puppetry, the spoken word, physical theatre, games, cartoonish fast-paced speed mime and improvisation, and crystalline choreography.
In the first work,  "Double Think", Perry presents a shifting world of light and shadow through dance and playful toying with opposites.
"I was considering the concept of double think and I wanted to fill the space with as many oppositions as possible," Perry said. "Basically it was a problem I set for myself and it worked. I was trying to put simple objects together with incredibly complex  people and see if I could insert the concept of contradiction at the same moment."
Through movement-based conversations, one tall man and one short woman shed some dark on a light subject in a complex world of simple objects.This abstract idea involves clashing oppositions within the space: the performers are constantly at odds, alternatively engaged and bored, disagreeing and agreeing.
Pairing the two very different dancers posed no difficulties when it came to devising the choreography.
"I've worked with both of them in the past and they have a good understanding of each other's physicality," Perry said.
But the contrast is strictly visual and conceptual, not played for laughs.
"I wanted to keep a sense of humour but I didn't want it to come from anything familiar in the dance world. If you introduce that people look for narratives and that overwhelms the piece."
"Double Think" is one hour 40 minutes and large chunks are improvised with the dancers having tasks to complete in front of an audience.
The work also utilises performer-operated lighting and live set manipulation that exposes functions of theatre live on stage as part of the choreography.
The second piece, "Gogglebox" – a nostalgic and playful romp for a short attention span on the relationship we have with our TV sets – shows that the Double Think program is itself a study in 'oppositions' and contrast.
"'Gogglebox' couldn't be more different than 'Double Think'. It's cartoonish, six minutes long, like an animated short between programs, about a relationship between TV and a woman. I find it comic."
Both these works have won Perry acclaim. In 2005, he was nominated for a Green Room Award for Best Original Choreography for Gogglebox. In 2006 he received an Australian Dance Award for Outstanding Performance by a Male Dancer and a Green Room Award for Best Male Dancer. In 2011 he was awarded the inaugural Harold Mitchell fellowship for Professional Development in Direction and Choreography, and Double Think was nominated for a Green Room Award for Best Design.
Perry has toured Australia, Europe and the US developing and performing roles with Douglas Wright, Leigh Warren, Chunky Move, Ballet Lab, DV8 Physical Theatre, and Force Majeure where he has been associate director since March this year.
The arrangement is backed by Force Majeure artistic director Kate Champion who this year has been in Melbourne working as associate director of Opera Australia's 2013 production of Wagner's Ring Cycle.
There's no funding stream for a fellowship but Champion has made Perry's position available by sharing half her wage with him in a bid to mark out career paths for local talent.
"We'd like it to continue for a little longer, at least another year. Kate and I have a sense that there is not enough confidence in putting local talent into directorial positions. Best way to change this is to be seeing up-skilling going on which happens in theatre and we'd like to encourage it in dance."
Double Think is performed from Wednesday 21 to Saturday 24 August, 8pm; Matinee Saturday 2pm; and tours to Brisbane Powerhouse 14 to 17 August. For more information or to book visit Seymour Centre website or phone 02 9351 7940.