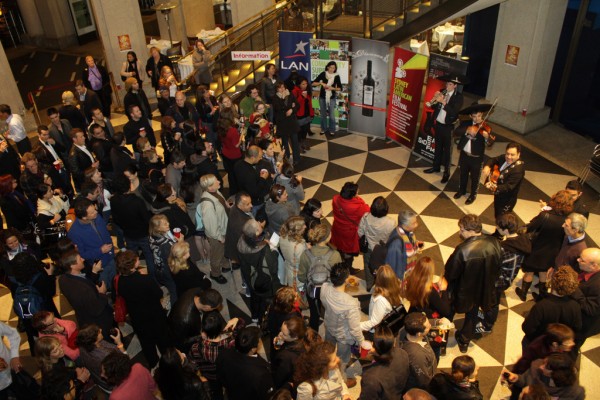 The Sydney Latin American Film Festival filled Sydney with love from September 6 to 16.
The opening night of the festival began at the Dendy Quays then continued with a fiesta at the Paragon city bar, filling a full-cinema crowd with tequila cocktails, Latino beer, dancing fever and a passionate pow-wow.
And there's no doubt Latinos certainly know how to put on a great party.
The feature that opened the festival was the award-winning and heart-warming film Mia. The extraordinary story follows Ale, a transvestite living in a Buenos Aries "pink" village for gay and transgender slum dwellers. Amidst growing turmoil of government threats to convict them, the "girls" at the pink village sing and joke. They might be poor but they are classy and clean.
While collecting plastic junk from upper class streets, Ale finds the diary of a mother, Mia, who committed suicide leaving a despaired alcoholic husband and troubled 10-year-old daughter, Julia. Ale, who I instantly admire for her gentle, admirable strength, develops a friendship with Julia.
Argentinean director, screenwriter and actor, Javier Van de Couter, a scriptwriter since age 12, insists this is not simply a story about the plight of the homeless poor or about same-sex marriage and transgender human rights.
He says the film is a very different kind of love story.
"This is an 'extraordinario' story between two very different people, about love," he says.
"Ale identifies herself with Mia's motherly traits. As she learns how to be more like her, it becomes a desperate attempt to be the absentee mother. So I guess the quest for human rights is more of a consequence."
Other films that screened included award-winning Southwest, set on a desolate Brazilian coastal village amidst a drought and a bewitched secret. The film presents a day in the life of an abandoned, lonely girl as she experiences the life of women, from baby to elder. The haunting story and avant-garde cinematography create a lasting impression on audiences.
The closing night at the Dendy had a bustling crowd of filmgoers entertained with drinks and the 'Moro and The Buena Vista Dance Academy'. The pièce de résistance was the wickedly side-splitting Cuban zombie flick Juan of the Dead.
The seventh annual Latin American Film Festival gives generous not-for-profit proceeds to community support programs. The 11-day festival was packed with varied, artistically brilliant films and open and closing night music/dance celebrations at Circular Quay, Marrickville, Annandale and Bankstown.
It's a not-to-be-missed spring event held each year so put it in your diary for next year's film fiesta fun.