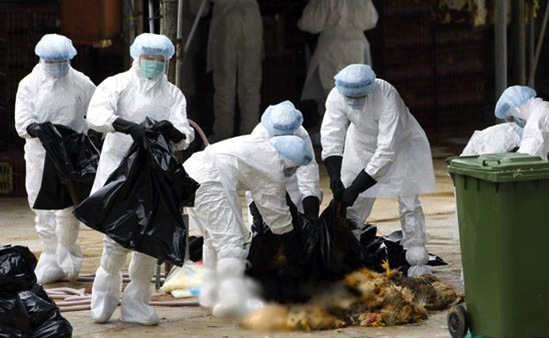 Chinese officials have ordered mass killing of poultry as an emergency measure to prevent the deadly flu spreading throughout seriously infected cities in China.
The flu is thought to be caused by the H7N9 virus, parasitic in wild birds and live poultry.
On April 10 the Nanjing Urban Administration ordered citizens to kill their poultry or be subject to penalties, and since April 6 all live poultry markets in Shanghai have been shut down and nearly 10,000 birds have been destroyed.
The vice-president of the Shandong Institute of Trade Unions Administration Cadres, Lizhi An, said China's officials blame civets, birds and poultry for spreading such influenza strains as SARS and H7N9 and use mass killings to control the problem.
But Chinese environmentalists have strongly opposed the measure, concerned that such drastic culling will have a negative impact on ecological balance.
Internet company SINA activist, Cairang Duoji, said the exact source of the H7N9 virus had not been confirmed so it was counterproductive to kill off birdlife.
"If the virus spreads from person to person will the officials kill people to prevent the flu spreading? We should respect life, and animals' lives are no exception," he said.
But the Nanjing government responded that they would not hunt wild birds in a bid to preserve ecological balance.
To date, the killing of poultry has been carried out in many Chinese provinces including Zhejing, Shanghai and Jiangsu.
The Shanghai government has promised owners compensation equal to 50 per cent of the poultry market price.
But many owners do not consider this to be sufficient. Chuanyan Wang, commenting on the Gansu website, said 50 per cent would not guarantee vendors could financially survive the cull. He admitted, however, that killing live poultry and banning the trade were necessary to curb outbreaks of the H7N9 flu.
Professor Peishi Yan of the Nanjing Agricultural University said the present culling was just an emergency measure.
"Citizens should not condemn the measure too much because it does have some effects," he told the People's Daily.
The fatal virus is still spreading throughout China with 13 dead and 60 infected, deaths on the increase and no effective treatment yet identified.