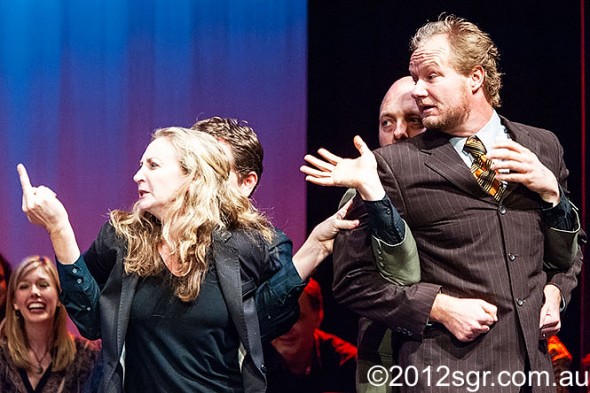 Studio 54 Shades of Grey and I Shot the Shire were among the hilariously named teams that took to the Enmore stage for the 2012 Celebrity Theatresports Challenge on July 21.
The eclectic line-up of celebs, experienced improvisers and young guns included Andrew O'Keefe, Adam Spencer, Rob Carlton and Claire Hooper.
One challenge required performers to tell a story about a magician's last trick, one meticulous word at a time. The game stopped in mere moments, thanks to Gabby Millgate's side-splittingly funny outburst: "The. Magician. Silently. EXPLODED!"
While the busty blondes and terracotta tans featured on The Shire provided material for a recurring gag throughout the night, the most thrilling moments involved bold character choices and absurd tangents.
In true theatresports tradition, audience members shouted out suggestions, with one scenario encouraging performers to tackle the emotions of 'joy', 'paranoia' and the uproariously non-PC 'schizophrenia'.
The celebs lent their talents to a variety of musical improvisations, including a spectacularly camp showstopper by Brendan Maclean as an enthusiastic news anchor.
Adam Spencer sang a sultry Cuban number, with an amusing final verse from The Chaser's Craig Reucassel about David Hicks and Guantanamo Bay.
Logie Award-winner Rob Carlton devoted unwavering commitment to the quirky characters he conjured up in each scenario. Playing a power-hungry boss, Carlton rode onto the stage on the backs of two other performers, but instead of whipping them like a racehorse, he furiously flagellated his own backside.
This was topped by the final improv of the night – a rendition of Shakespearean drama with a Belvoir twist. The nudity that has graced Sydney's stage in recent years was embraced by the male celebs, who stripped down to nothing but their jocks by the end of the scene.
The phrase 'expect the unexpected' is thrown around all too often, but this year's Celebrity Theatresports was indeed entirely unexpected, bold and bizarre.
And the result was a tie between two titanic teams of four: Claire Hooper and Dan Ilic's team and Rob Carlton and Nicola Parry's.
But ultimately it was the audience who won.