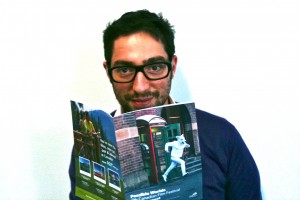 Sydney's annual Canadian Film Festival, Possible Worlds, returns for its seventh year with an impressive line-up boasting everything from the queer musical Leave it on the Floor to the Oscar-nominated French language comedy Monsieur Lazhar.
Possible Worlds is Sydney's chance to explore an incredible collection of Canada's best features, experimental films and documentaries, such as Pink Ribbons Inc, a controversial look into the corporatisation of the breast cancer awareness movement, and 40 Days at Base Camp, which follows three teams as they attempt the treacherous climb to the summit of Mount Everest.
Festival director Mathieu Ravier jokes that Possible Worlds is "Sydney's friendliest film festival", and with half of the screenings offering a free welcome drink and food on arrival, festivalgoers are sure to agree.
Audiences will have the opportunity to meet some of the creative minds behind the films and for the truly keen aspiring filmmakers, award-winning indie director Ingrid Veninger will be hosting the master-class Confessions of a low-budget filmmaker.
The festival will also be throwing two screening parties at St Stephen's Church Hall in Newtown for film buffs and their friends. Expect roller-disco attire, dj's, drag acts and a burlesque performance!
"It's really all about a celebration of cinema and a social space in which you can meet people who are into world cinema," says Ravier.
"Unlike the Italian or the French Film Festival, where many people are familiar with the cinema, this is really more of a discovery festival. We acknowledge that you might not know much about it, and that's why we're here. So come and find out."
Discover the diverse and unexpected world of Canadian cinema between August 13-19 at Dendy Opera Quays and Dendy Newtown.
To book visit http://www.possibleworlds.net.au/how-to-book/