Multi-award winning hit Broadway play The Motherf**ker With the Hat is a foul-mouthed fast moving farce about love, fidelity and haberdashery.
Fresh from rehab and under the guidance of his smooth-talking sponsor Ralph D, Jackie is clean, on parole and ready to begin his life with his volatile but loving soul mate Veronica who is far from sober. They have been in love since the 8th grade and nothing can come between them – until there's a hat.
Written by Stephen Adly Guirgis, this Workhorse Theatre Co production boasts a cast of excellent young Australian talent, including John Atkinson (Home and Away, McLeod's Daughters), Troy Harrison (The Boy from Oz, Priscilla Queen of the Desert), Megan O'Connell (Much Ado About Nothing, Three Sisters), Zoe Trilsbach (Saturday Night Fever) and Nigel Turner-Carroll (Gallipoli), and leading director Adam Cook.
Megan O'Connell plays Ralph's wife Victoria, a drug abuser and alcoholic, in this 100-minute, intermission-less tale that explores moral relativism.
"She has such a tough front but inside she's reeling from years of a hard life. Both women in this play are like that," O'Connell says.
"Victoria is a bit of a truth-teller. There's a lot of deception in this play, both of self and others. Her big scene changes the game for the other characters – she lets loose a doozy of a secret that changes everything for Jackie."
O'Connell says a major strength of this play is writing that stays with you.
"It has a rhythm all its own. It really is a rollercoaster – fast-paced and bitingly funny.
"What makes this play stand out is that while it deals with heavy topics, it does it in a really humerous way. This is a very human story that everyone can recognise.  You know these people – it may not be you but you've met them."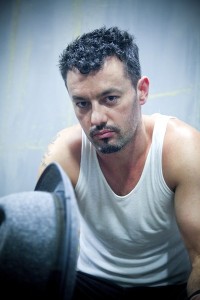 This work is about people dealing with big issues, she says, and while the characters are from a lower socio-economic background, they are smart, funny and sharp.
"Guirguis endows them with this intelligence and force; he does not patronise them or talk down to the audience. That makes this an exciting show to do and an exciting show to see."
And everyone is having a lot of fun with the title.
"It's a good little test. If people are offended by the title, they probably won't be able to deal with the play. There is some profanity but it's a fun tongue-in-cheek title," O'Connell says.
"Key to the title of the play is one small item of clothing, an accessory that sets off the roller coaster ride – a seemingly inconsequential and trivial thing that sets off everything."
Set and costumes are by Dylan James Tonkin; lighting design is by Kim Straatemeier
and sound design is by Marty Hailey.
Following its 2011 Broadway season starring Chris Rock, Bobby Cannavale and Annabella Sciorra, The Motherf**ker With the Hat was nominated for six Tony Awards, three Drama League Awards, six Outer Critics Circle Awards (of which Elizabeth Rodrigues won Featured Actress in a Play), three Drama Desk Awards (Bobby Cannavale was awarded Outstanding Actor in a Play), two Broadway.com Audience Choice Awards and it won the Theatre World Awards' Lunt-Fontaine Award for Ensemble Excellence.
The Motherf**ker With the Hat is at TAP Gallery Theatre, 278 Palmer St, Darlinghurst from Wednesday, April 17 to Sunday, May 5. Wednesday tickets are two-for-one. More information at www.workhorsetheatreco.com