With a horde of leather clad bikers and the constant thrum of motors, the annual Brighter Days Festival in Bright, Victoria, is an oasis for car and motorcycle enthusiasts.
The free charity event filled the town with music across the long weekend from Aussie rockers – including Joe Camilleri and The Black Sorrows, Chocolate Starfish and the Screamin' Eagles – who played both originals and crowd-pleasing covers.
This year, an estimated 8000 people were lured into the leafy north-east Victorian town, completely booking out accommodation in Bright as well as the surrounding suburbs.
And the energy was at a constant high as plenty of activities kept families entertained across the three-day weekend.
From the onset, the Cotton Ball Run saw a throng of cars and motorbikes make the trip to Bright together, starting from Whittlesea, a town north of Melbourne.
Once in Bright, there were market stalls, competitions, car and bike shows, the Amazing Chase – which saw kids solve puzzles around the town – and the Babes Longest Lunch, an exclusively female event at a winery nearby.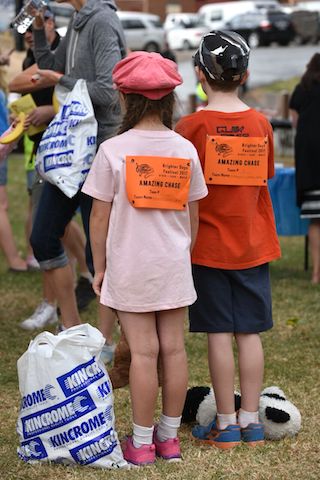 But underpinning the games, music and parading vehicles were sobering reminders of the two charities the festival donates its total profits to: the Cooper Trewin Memorial SUDC (Sudden and Unexplained Death in Children) Reserach Fund, and the DEBRA Foundation (Dystrophic Epidermolysis Bullosa Research Association).
The money raised from the last four festivals for SUDC has helped create the Cooper Trewin Brighter Days Neuroimaging Study in Boston, aimed at discovering what makes a child at risk of sudden and unexplained death.
And Dystrophic Epidermolysis Bullosa is a rare disease that causes the skin to blister and peel at the slightest touch – as if living with third degree burns.
On the second day of the festival, a short documentary about this disease was screened, focusing on two children's daily suffering. The images were confronting, and the crowd, once jittery from dancing, became still and silent, donating generously when buckets were passed around.
Donations were also made through raffle tickets (Harley Davidson donated a $40,000 beast of a motorbike, gawked at by onlookers over the three days) and selling merchandise and wristbands.
In its fourth year, the festival has become a yearly fixture in the calendar of Victoria's alpine region, and a fantastic event for two important causes.