Industrial chic meets cutting edge bar food in this urban hot spot that has taken bar food to a whole new edgy level.
Chef owners Claire van Vuuren, Mitchell Grady and Jo Ward swapped the formal confines of fine dining for the free form shared plate concept that pairs surprising ingredients with assured techniques.
Pull up a chair, a retro chair to be exact and be prepared to wait over a well built cocktail or a biodynamic wine at this no bookings venue. Sit amongst exposed downpipes, bare light bulbs, and a wall of recycled bottles for equally eclectic flavours on the plate.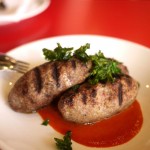 A dish of of lamb kibbeh arrives in the form of three wholesome looking sausages fried, then grilled, to reveal tender and juicy morsels garnished with deep-fried continental parsley. Grilled cuttlefish salad is tossed with cucumber, mustard cream and olive oil, with a sprinkling of sumac. Prawns and wood ear mushrooms are stir fried with black bean sauce and a Jerusalem artichoke and pecan tart is nutty, gutsy and satisfying. Don't leave without ending on a sweet note with the luxe bloodwood trifle, layered with port jelly, passionfruit coulis and vanilla creme anglaise.
The menu changes frequently, so you'll never run out of dishes to share.
416 King street, Newtown
Tel:  02  9557 7699
Visit www.chopinandmysaucepan.com for more reviews and recipes.