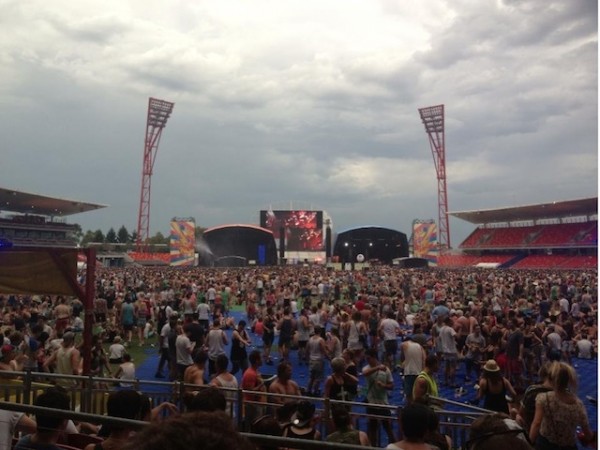 Most Sydneysiders sought refuge in air-conditioned offices or shopping centres on Friday when the temperature hit 45 degrees. Instead, I joined a sweaty, swarming crowd of 50, 000 music fans at the Big Day Out.
With a bottle of sunscreen and a frozen cocktail at the ready, I was set for a day of musical mayhem.
First up were Triple J regulars Deep Sea Arcade who brought their psychedelic retro-rock to the Green Stage. Grinspoon came out all guns blazing, with classics like 'Hard Act To Follow' and 'Chemical Heart'.
Late afternoon was pure bliss with New York indie rockers Vampire Weekend. Their insanely catchy riffs inspired a sea of dancing, jumping and chanting fans, especially with 'A-Punk' ("Ay ay ay ay!")
The Yeah Yeah Yeahs followed on the Blue Stage, led by rock goddess Karen O. With a bitching yellow leather jacket and knee high red socks, Karen O slayed the audience with hit after hit: 'Phenomena', 'Heads Will Roll', 'Maps' and 'Gold Lion'.
By early evening, the running tally of Southern Cross tattoos had reached double digits and there were more bikinis on show than a public pool.
The temperature finally dropped and the heavens opened during The Killers' set. 'Mr Brightside' was a cracking opener, followed by the tracks 'Somebody Told Me' and 'When You Were Young'. Charismatic frontman Brandon Flowers teased the crowd with a few bars of the Crowded House classic 'Don't Dream It's Over', and revelled in the pyrotechnics display.
"Pinch me! Pinch meeee!" a fellow punter shrieked as the Red Hot Chili Peppers took to the stage. A slew of hits were unleashed by the legendary rockers, including, 'Scar Tissue', 'Under The Bridge and 'By The Way'. Dancing reached its peak with the encore 'Higher Ground' and their head-thrashingly good anthem, 'Give It Away'.
The Bloody Beetroots capped off the night in the Boiler Room and offered one last chance to practice the signature dance move of all festival goers: the fist pump.