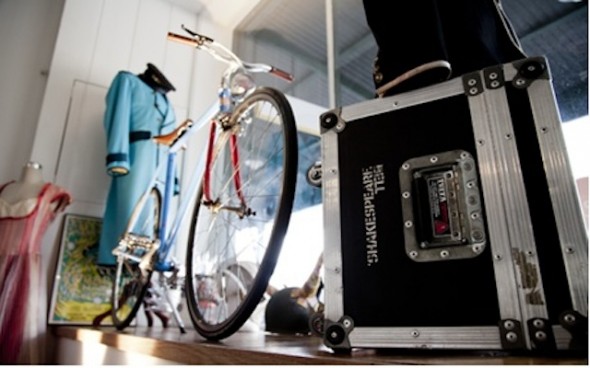 Bell Shakespeare bumps in on George Street with creative pop-up space: 9 January – 25 February 2013
Bell Shakespeare is taking up residence of a great new pop-up space in The Rocks. Opening its doors last Wednesday (January 9), Bell Shakespeare's Closet at 123-125 George Street Sydney will become home to the Company's costume and development departments for six weeks.
Set up as a behind-the-scenes look at Bell Shakespeare – the Company, its history, some of the more elaborate costumes and props used over its 23 year history – the Closet invites Sydneysiders to step into the magical world of theatre. The space will be open to the public from Wednesday to Saturday between 10am and 4pm.
"We've got a stunning dress from our 2009 production of Pericles, a military jacket from 2012 Macbeth, a bird mask and bull mask from 2001's Much Ado About Nothing, the bicycle from The School for Wives, model set designs, books, posters, photos and more. It'll be a showcase of some of the great items we've used over the years," said co-artistic director Peter Evans.
Costume makers Kate Aubrey, Mandy Nichols and Jude Loxley will be moving their cutting tables and sewing machines to the space as they embark on creating more than 40 costumes for the first production of the year, Henry 4. Mind's Eye, the Company's developmental arm, will move in upstairs.
"You'll be able to see Kate and Amanda busily working away and we'll have three writers working upstairs, writing new texts and workshopping new productions," said Evans.
The Closet is part of the Rocks POP-UP, an initiative of the Sydney Harbour Foreshore Authority that is breathing new life into The Rocks, offering temporarily vacant spaces in some of the beautiful heritage buildings and opening its doors to a host of creative and community users.
Bell Shakespeare's Closet will be open from Wednesday – Saturday, between 10am and 4pm daily, from 9 January to 23 February 2013. For regular updates visit Bell Shakespeare – Facebook