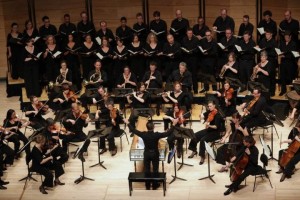 It's not every evening one enjoys the extravagance of 33 magnificent voices sharing the stage with 33 musicians at the top of their form.
Young, often handsome, it's more than apparent that neither the Brandenburg Orchestra nor their Choir makes the slightest effort to hide their considerable enthusiasm. Catch the double bass swoon as the choristers scale the dizzying melisma of Bach's Cantata Unser Mund sei voll Lachens, BMV 110. Witness the barely concealed passion of a tenor about to launch into Handel's Anthems for the Coronation of King George II.
These two works conclude the first and second halves of a beautifully rich and graduated program, well considered at a total of two hours.  The first half of the program plunges the audience into the vertiginous wealth of a range of Bach cantata, suites and choruses. The second half surveys four works by Bach's contemporaries Zelenka, Telemann and Handel.
What's not to love?
Actually, on opening night it took a while for the whole to mesh. The first two works including Bach's Jesu joy of man's desiring lacked gravity. The strings were tight but the woodwind was indistinct and furry, a clash of styles as disconcerting as might be casting Brando in King Lear. The tempo chosen for some of these pieces seemed unnecessarily speedy.
I can only speculate. While the majority of the orchestra resides in Sydney, some hail from as far as Perth and Adelaide. How difficult must it be to rehearse and do justice to "the ferociously challenging and…overwhelmingly fulfilling" music of Bach?
Surely this was first night-itis.  Twenty minutes in and the whole was greater than the sum of the parts. Go, enjoy this lavishness.
-Leonie Hellmers
Bach Eternal
Australian Brandenburg Orchestra
City Recital Hall Angel Place
May 9- May 19
Bookings: http://tickets.cityrecitalhall.com/single/psDetail.aspx?psn=96