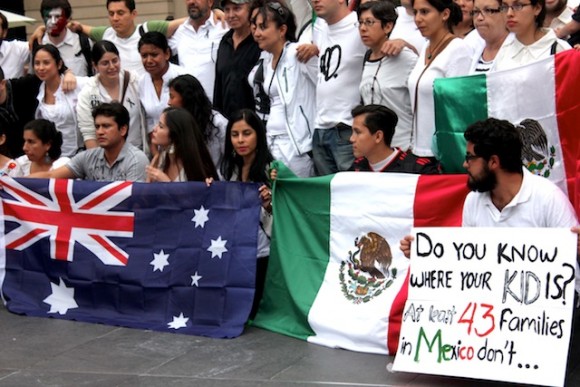 Protesters demanding action on the disappearance of 43 missing students in Azotzipana, Mexico, took advantage of the G20 Summit of world leaders with peaceful demonstrations in seven Australian cities on Saturday, November 15.
The night of September 26, the Mexican army and local police attacked students from the rural teacher training college Isidro Burgos in Ayotzinapa, Guerrero. Six were killed and 43 went missing.
At Sydney's Customs House the atmosphere was friendly but serious as an estimated 200 people dressed in white joined the protest against the Mexican government as its president, Enrique Peña Nieto, who was in Brisbane for the G20 international conference of world leaders.
"There are lots of things that need to be clarified, because it has been already two months and the students are still missing," declared the organiser of the protest who wants to remain anonymous. "We want to put pressure on the president because lots of human rights have been violated."
Ari Marneau, from UNAM public university in Mexico and now an exchange student at the UTS business school, said he was deeply saddened by this attack. His Mexican university closed down for three days after the event.
"I think it is very deplorable that the government is attacking the main future labour force. These students were possibly going to be teachers in a rural zone. It is difficult to understand why it is happening," Marneau said. "I think [the criminal organisations and the army] are attacking the wrong people".
Mexico, already tired of the drug cartel war and its high rate of violence, made of the Ayotzinapa case a symbol of the daily disappearances and murder that occur every day.
Sydney resident Eileen Haley spent 12 years in Mexico between 1975 and 1997 and still has strong links with the country.
"This particular atrocity has really got the people of Mexico moving. I thought it was important to show international solidarity with Mexico. I think it gives heart to the people to know that they are not alone."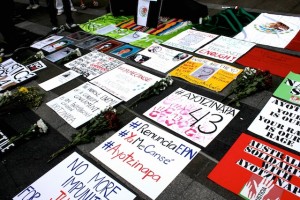 With little reaction from the government, Mexicans are demanding justice calling on the Mexican government to resolve the matter. Here the protestors demonstrated their support for the families with slogans, poems, and traditional Mexican songs and dances.
"We are not able to solve the problem but at least we are raising our voices for them," said the organiser. "We are talking about human beings and it is something that concerns everyone."
The strong feeling of solidarity was manifest at this protest.
"Before appealing for a political reaction you're appealing to a human feeling," said Marneau.