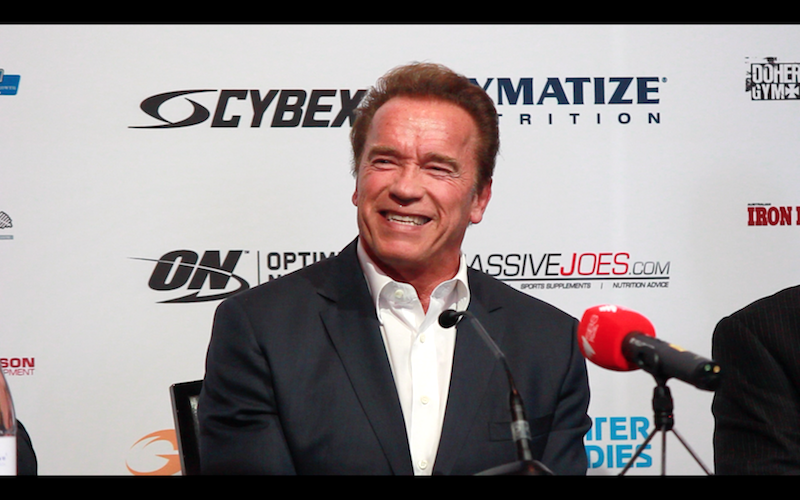 "I am as hungry today as I was when I was 20 years old," says Arnold.
But before you get your engines running, this has nothing to do with the upcoming US Presidential elections. At a press conference held at Docklands in Melbourne on March 18, Arnold confirmed his replacement for Trump on the US version of Celebrity Apprentice TV show.
"I never thought I would be a part of a TV reality show, and I really like the show and I jumped at the opportunity," beamed Arnold.
Arnold Schwarzenegger needs no introduction. He has played iconic roles both in reel and real life: the Terminator, Governor of California, philanthropist, and iconic body builder. The crowd frenzy in Melbourne during his current visit to Australia is testament to this superstar's towering presence.
The primary focus of his visit to Australia is fitness and well being; ignore movies (except confirming Terminator sequel), TV (except confirming US Celebrity Apprentice TV show), and politics (except saying that he is okay with the one job that he can't do). Sports and fitness are necessary and vital for all age groups, and this is the message Arnold has come to share with Australians, and it's not just about grown ups.
On being asked if he has any aspirations to be the next President of the United States, he responded in his trademark style: "We have a Constitution in the United States that says if you are not born in the States you cannot run for President. But, may I remind you that every single thing I have done so far and that I have accomplished so far is because of America. So therefore I am not gonna complain about the one job I can't do!"
Arnold also paid a visit to a Futsal Centre in Brunswick where he played some football with young aspiring soccer players, mingling with the crowds and generating a frenzy.
Full of warmth for his young fans, Arnold sure made the day for the little goalkeeper girl who blocked his goals, by giving her a huge hug.
The IFFB Arnold Classic has been around since 1989 and is the biggest event of its kind; this year marked the 28th Anniversary of the Arnold Classics Sports Festival in Ohio.
"Over 200,000 people attended the event with over 80 countries participating… but today we are here to celebrate the 2nd edition (in Australia), said Bob Lorimer, President of Arnold Classics Productions.
"We are the world's biggest multi sport festival," said Tony Doherty, Arnold's partner and the promoter of the Arnold Classic Australia.
Dr Rafael Santonja, President of International Federation of BodyBuilding & Fitness IFBB, said this was a "great celebration for the sport festival and it's a world phenomenon".
"It's all about health, enjoyment and sports together. This is the magic formula and all of this is inspired by the iconic person of Schwarzenegger," said Dr Santonja.
Expanded from America, the initiative is giving opportunity to athletes in 30 sports over 6 continents, now spreading to Spain, Australia, Asia, South Africa and Brazil.
The message is simple: "Through sport we are building a healthier, easier, and more friendly society."
In response to obesity problems facing Australia,Dr Santonja quipped:"We have as many gymnasiums and health clubs as grocery stores and supermarkets. I remember that 40, 50 years ago when I was travelling around the world I could not find gyms. Now every hotel has a gym. It is really amazing."
The fitness festival runs from from 18 March to 20 March 2016. For more information, visit hZp://arnoldclassic.com.au/.