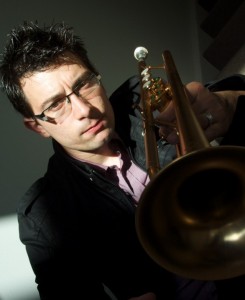 For me, the hallmark of a great city lies in the quality of its jazz clubs.
In my eyes Melbourne is a great city and Bennett's Lane is everything a jazz club should be. The perfect place to forget your troubles, or ponder them over a whisky on the rocks, it is a true throwback to the classic age of jazz.
Located down a laneway in typical Melbourne style (that I managed to walk past several times before realising it housed the iconic club) Bennett's is small and neon-lit.
On this night the Daimon Brunton Quintet was launching its fourth album Wah Sa (an ancient Chinese chant for "already done"). A tribute to the '70s groove recordings of Freddie Hubbard and Miles Davis – with shades of Japanese composer and pianist Hiromi Uehara and Michael Jackson thrown in for good measure – the album was recorded live and each song afforded only one take.
As a result, the style is utterly organic and unequivocally jazz. Speaking with trumpeter and front man Daimon Brunton later, he described the innate energy of the genre.
"The fact that jazz has a large improvisation component arms it with a potency not found elsewhere. It is this spontaneous creation in the 'now'."
To Brunton, jazz is the greatest of all the art forms.
The quintet played at Bennett's Lane with the kind of effortless cohesion and confidence that grows only through immense experience and deep mutual trust.
Indeed, they have graced the stages of almost every live music venue in Melbourne over the past 16 years. And it shows.
Keyboardist Andrew Boyle played with equal proficiency on Nord keyboard and shimmering grand, the former producing a funky, bluesy organ sound and the latter evoking a hazy, smoky piano bar feel.
Brunton himself was a commanding yet respectful front man, sharing the spotlight equally with his fellow musicians. Indeed, he counts the onstage interaction and sharing of ideas between band members as his favourite part of performing.
Although much of the material is original, there is a comforting sense of familiarity to it.
Perhaps it is the ghosts of jazzers past that haunt the soundscape of Wah Sa or the fact that Brunton's compositions follow traditional forms and use harmonic patterns deeply rooted in jazz, but it is a far cry from the avant-garde and sometimes alienating direction that contemporary jazz can head in.
Leaving Bennett's Lane I feel as though I am leaving the old world behind for the new. Speeding back through the city to my $50 a night hotel room with a heavy heart, it feels as though I am leaving something behind.
Tonight's show was the perfect soundtrack to the city. From the back seat of my cab I wonder what it is that I so love about jazz.
It's not the cool bass and brass, it's not the Tanqueray and tonic, it's not even Ella or Ellington. It's nothing that can be seen or even heard.
It is the fact that jazz never disappoints. Where people fail, there will always be jazz.