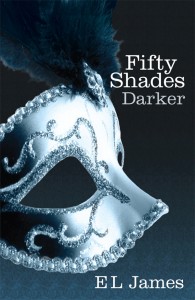 Sydney's Hellfire Club is having a '50 shades of Play' night in response to the erotica bestseller Fifty shades of Grey sparking  interest in the club's bondage/fetish culture.
"We're having a few more inquiries and people signing up," said Hellfire Sydney Club promoter Jackie McMillan.
"We will know how many on the [50 shades of Play] night. But I'm not sure if they will like what they see. I haven't read Fifty Shades but it sounds Mills and Boon."
The trilogy, written by E L James, centres on literature student Anastasia Steele's introduction to dominance/submission via her lover, the handsome Christian Grey. He awakens her 'inner goddess' who thinks – a lot – "Holy Hell he's hot' and 'Holy Hell, he's rich'.
Understandably, Master Tom and Ultra, the founders of Hellfire Club, call it 50 shades of 'vanilla' .
For the author E L James, it's 50 shades of green – dollars. Beginning life as a Twilight fan fiction eBook for 'Twimoms', the vampire-free 50 shades has sold 20 million copies worldwide.
In Australia, the trilogy Fifty shades of Grey, Fifty Shades Darker, and Fifty Shades Freed, sits at the top three spots in book bestseller lists.  To capitalise on its popularity, Myer sells the books at its lingerie counter.
Surprised publishers are now scrambling to get on the erotica bondage-wagon with similar novels, real life submissive tales and a new series 'sexing up the classics' such as Wuthering Heights.
And naturally, there's a movie deal, rumoured to be directed by Angelina Jolie.
However, long before  Fifty Shades made bondage the new black, The Hellfire club began in 1993 at Chippendale's infamous BlackMarket club and Master Tom with Ultra Vixen celebrated its 18th birthday last year.
The club is now at Q Bar,  Darlinghurst or, as Hellfire prefers, "Darling it Hurts" every third Friday, with the 50 shades of Play this Friday July 27.
Inspired by the aristocratic 18th century secret 'hellfire' clubs where 'amoral' acts took place, it now has a Facebook site linked to the website, welcomes all genders and sexualities, but enforces strict rules, including dress code: "no effort, no entry" and no total nudity.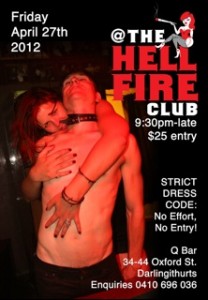 While leather and corsets are a given, the website's dress code encourages: "it doesn't have to be expensive –  lots of awesome outfits are DIY – rips, safety pins, bubble wrap, feathers and tulle – go crazy at Spotlight!" Sandals are only allowed if part of a naughty Roman centaurian outfit, of which the club says they've had a few over the years.
"Master Tom and I never imagined we would want to come out  of dark corners," Ultra Vixen says on her blog. "Everything always seemed sexier in dark corners…however we are exhibitionists at heart."
"The club members are having a bit of fun with it," McMillan says of Fifty Shades. "However, most of them think the book trivialises the scene."
W: HellfireSydney.com
50 Shades of Play Friday July 27